Lead stories
A small amount of acreage was burned in an apparent negligence-related grass fire at the intersection of U.S. Highway 95 and Johnston Road (south) Wednesday morning, July 1.

Klement to start Oct. 1

Idaho County Free Press publisher Andy McNab today announced he will retire Sept. 30, and his job will transition to Free Press advertising director Sarah Klement starting Oct. 1.

Don't light that fuse in Kooskia!

Grangeville's Main Street will have a fresh red-white-and-blue look come July 1.
Featured content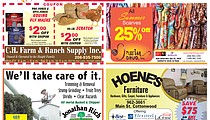 See the HUGE deals your local businesses are offering for July 2015! (August 2015 deals coming August 4th in The ...
Photo gallery
Opinion
Free Press social media