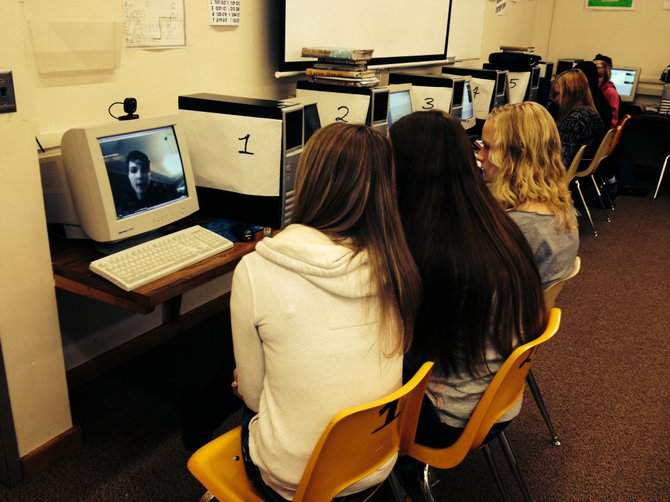 Contributed photo
Alyssa Koberstein, Kate Lutz and Marie Hauger Skype with their career mentor during Mrs. Bernadette Edwards' eighth-grade technology class.
"My grandpa owns B&B Bargain so I've basically been there a lot," said Grangeville Elementary Middle School eighth grader, Wyatt Perry. "But I got to see maybe there are some things I might not like about that job – like crabby customers."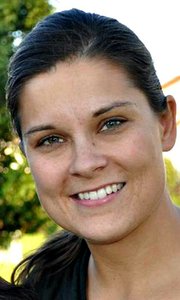 "But my dad who works there too says, 'Kill them with kindness,'" shrugged Perry.
Good advice for a class of more than 50 eighth-grade students who have been working on a careers project.
"This is an opportunity for a lot of areas to learning to come together," said technology teacher Bernadette Edwards. Those areas include optimizing skills in reading, interviewing, video-producing and writing, among others.
Students each had to take a test which helped them assess their interests and abilities.
"We had to say what we liked and what kind of life we wanted to eventually have and the program helped pick careers that would support that lifestyle," said Ryan Ruklic.
From there, students chose a career, wrote questions, then found a contact within that career whom they could video interview. While many students chose local adults to shadow, several chose those who had careers not offered in Idaho County, including marine biologists and underwater welders from different states.
"These kids were able to Skype and e-mail and use their technology skills that way," Edwards said. "Almost every student uses social media, phone and e-mail for entertainment, but to use it for this purpose is a completely different experience for them."
Trent Hunter interviewed Barry Ruklic with the Forest Service and was interested in firefighting techniques using drones, he said. However, he was somewhat surprised to learn a few other things about the job.
"For one, there's a lot of public conflict when it comes to the Forest Service and its regulations," Hunter said. "You have to be able to handle that and do your job."
"And there is a whole lot of paperwork, too," added Blake Courtney.
Mikayla Ruzicka found that dealing with professionals in a larger town can sometimes be more difficult.
"At first I called a hospital [out of the area] and they kind of blew me off," she said. "But I interviewed Dr. Farnsworth here and everything went really well."
Tessa Godfrey had already spent time volunteering at Grangeville Veterinary Clinic, "so it was easy to call to set up an appointment and then ask questions," she said.
"Cody Edwards said he'd hire me now," said Chase Bentley who interviewed the contractor."
"I want to see their creativity in their projects, but we have a limited amount of time, so their final videos have to be less than five minutes each," Mrs. Edwards said. "My goal is to help them transition into high school projects and even their senior project through this experience."