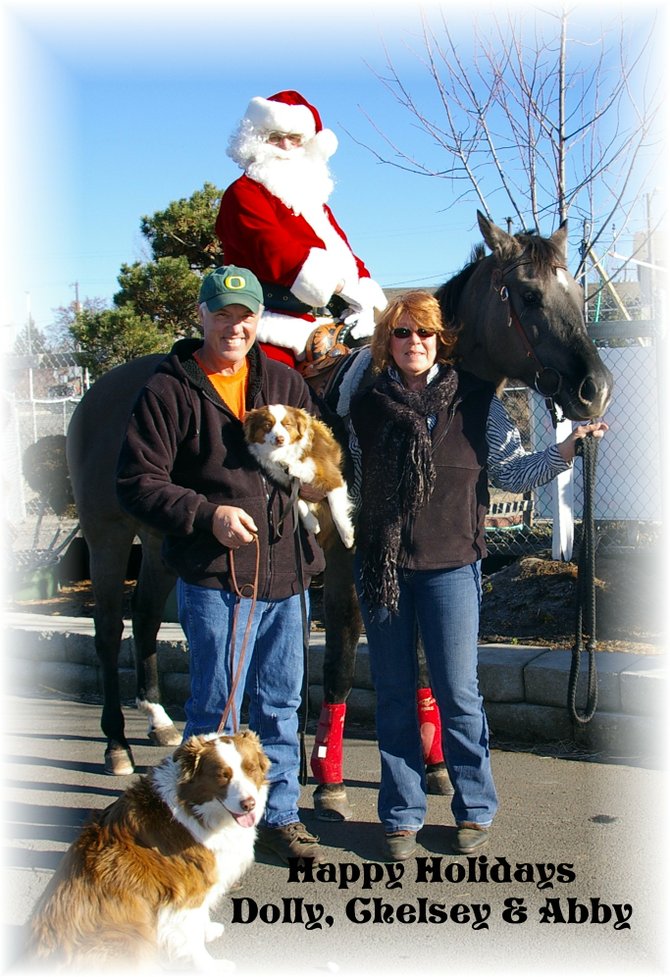 Contributed photo / Toni Baker
Dolly the horse welcomed Santa (Bob Haning) aboard Saturday, Nov. 23, in front of Green Acres Nursery in Grangeville. Owners Christie Brown and Dave Dixon are also shown here with dogs Chelsey and Abby.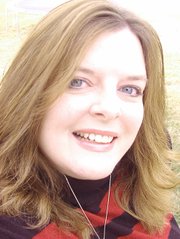 The Elk City Saloon and Cafe will be closed on Christmas Day this year, but will still be taking reservations for Christmas parties and special events. Reminder: They are also closed Mondays and Tuesdays until May, and open at 11 a.m., Wednesday through Sunday.
•
Last week I missed jumping the White Bird column on People to the next page. I'm sorry for that error. The whole column is on the Free Press website, so you can check out the end of Nicole's column there.
•
The Camas Prairie Food Bank count for November was 782 people needing assistance. This includes seven homeless who were living in camp situations or trucks. Several new families were also served.
"It was an extremely busy month. We made it through with the help of donations from our community," said manager Carlene Whitesell. "December will be a hard month again. We are able to use anything. Corn is the only thing we have an abundance of. Thank you for helping meet these needs in our community."
Donations can be made on Tuesdays or Fridays before 2 p.m. or dropped off at Community Action Agency and several banks in the area. For other days, call to make arrangements, 983-5475, or connect with CPFB on Facebook.
•
On Dec. 3 and 6, Potlatch No. 1 Federal Credit Union in Grangeville will be hosting the Salvation Army Kettle to raise money with the Kiwanis for Community Action. Come and put money in the kettle at Grangeville grocery stores and enjoy cookies and coffee provided by PN1FCU.
•
I really appreciate the cross that is lit on the hill for the holiday seasons ~ Thanksgiving, Christmas and Easter. The Grangeville Sno-Drifters Snowmobile Club has maintained the cross on the hill for many years. This year they have set up an account at Sterling Bank under "Sno-Drifters Cross Donation" for community members who would like to donate to help with the expense of replacement materials for the cross.

It was awesome to be able to see the cross lit on the hill – despite the fog and mist – at Saturday's Pioneer Park Winter Magic Tree Lighting.
•
Thanks to the Horizon Recreation Committee of Terra Hill, Kathy Wassmuth and Karen Ruklic for organizing the Winter Magic tree lighting in Grangeville Nov. 30. Thanks also to the crews from Avista and Idaho County Light and Power who hung lights and to helpers from Grangeville High School and Sts. Peter and Paul youth group and many others, too. Of course, a big thanks goes out to the local businesses, organizations and individuals who have donated to make this tree lighting (the 6th annual!) such a success.
•
Kamiah Chamber of Commerce will host its general meeting and annual holiday party Wednesday, Dec. 4, at the Welcome Center, 6:30 p.m., social and snacks with a 7 p.m. meeting. Those attending should bring appetizers or finger foods. Hot toddies will be served. Officer nominations and elections will also take place.
The Christmas light parade is set for this Friday, Dec. 6. Anyone may enter a lighted float big or small. Information and entry forms are available at Kamiah True Value or the Chamber Welcome Center. Lineup will begin at 5:30 p.m. at the Kamiah High School football field parking lot.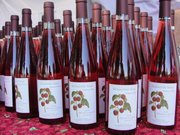 •
Searching for a unique, local gift? Check out the raspberry wine out of Cottonwood by sharing nature's bounty from the Monastery of St. Gertrude this Christmas. For a limited time, the raspberry wine is on sale for $20 per bottle. Order now and pick it up at the monastery Dec. 12-14. Special arrangements can be made for deliveries in the region.
A press release reads, "Created with a devotion to the essential raspberry taste, you will find this vintage the perfect balance between fruitiness and finesse. It starts off with a light, but rounded, sensation of raspberries followed by a crisp finish."
Call Carolyn Radakovich
at 962-5063.