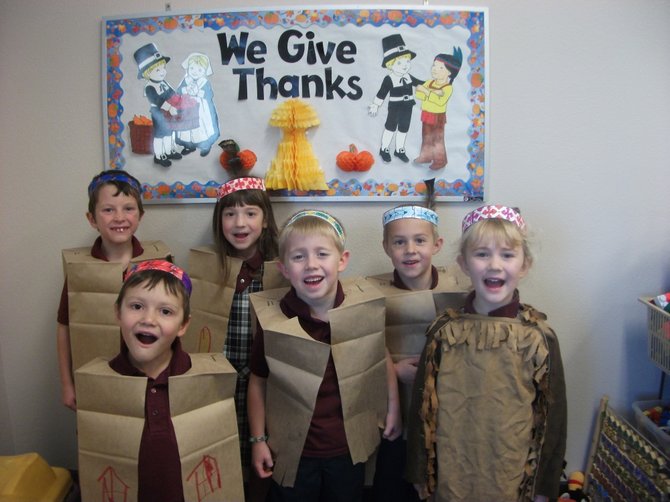 Contributed photo / Summit Academy
The kindergarten students at Summit were dressed for the Thanksgiving feast with the preschoolers on Monday, Nov. 25. The food was great and they had a good time remembering the first Thanksgiving! This is an example of what went on in many schools in the three days before Thanksgiving.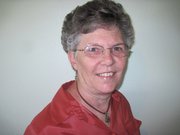 COTTONWOOD — Summit Academy's Christmas Nativity play will be at 7 p.m. on Dec. 13 at the school. This will help everyone remember the real reason for the season.
The annual Center for Discovery Open 'til Midnight will take place on Friday, Dec. 6, from after school until midnight. Bring your kids to the center while you get a jump start on the Christmas holiday activities. They will provide snacks, dinner, movies and crafts.

Saturday, Dec. 7, is the annual Christmas shopping day from 8:30 a.m. to 1 p.m. at the Prairie Elementary School cafeteria and gym for all the kids in the community. All items are priced under $5 and gift wrapping will be available. Use the back cafeteria door. If anyone has gently used items you would like to donate, call Erin at 962-7080 or 816-0202.
Advent Penance services will be at St. Mary's on Tuesday, Dec. 10, at 7 p.m., and at St. Anthony's on Monday, Dec. 16, at 7 p.m. Prepare your heart for the coming of Jesus.
Prairie Community Library has a new mascot. He came without a name so we want kids to suggest a name for him. Write the name on a piece of paper and put your name, address, and phone number on the back. Bring it to the library along with your pictures for the coloring contest. You may enter both at the same time.
To help you get into the Christmas spirit, the librarians have gathered together some Christmas books for adults. They are on a special shelf so they will be easy to find. There are several different authors and most of the stories are short so you can pick out something of interest to you. Enjoy soft Christmas music and a cup of hot beverage while you browse through the books.
Two new books that have arrived at the library are westerns. "Outlaw Tales of Idaho" is a look at some of the toughest and most dangerous characters in the West. This book introduces a state you thought you knew — and a West wilder than you've ever imagined.
In "Myths and Mysteries of the Old West," fact versus fiction. Were any of the stories about Butch Cassidy or Calamity Jane or any others true? "We love a good story more than a slavish adherence to the facts," writes author Michael Rutter. Check them out and find out for yourself.