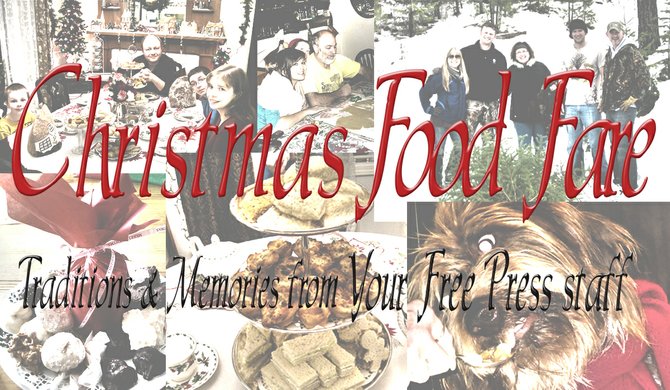 David Rauzi
News Editor
Two words: Bacon. Mmmmm.
Christmas traditions can be a struggle and test a marriage,
such as when to open presents (Christmas Day, of course) or just how early to start watching holiday movies (Dec. 1 at the earliest, right?). But a constant for every Dec. 24 has been our family's Christmas tea. Our kids have grown up with the tradition of a Christmas Eve tea party surrounded by polished silver and porcelain, treats and finger sandwiches on tiered platters, and a choice of special teas. Of course, getting to that point takes preparation; everyone takes part in assembling the meal, in cooking, in polishing and cleaning silverware, tea cups and dishes. The table is set, tea is served and always there are the Bacon, Tomato and Basil Cups.
Andy McNab
Publisher
While we have enjoyed lots of traditions throughout the holiday they seem to change as the sons grow and leave the nest. It seems every other year we are all able to have the entire family together in our home for a Christmas filled with
stories, a few gifts and way too much quality faire: prime rib, fresh breads, cinnamon rolls, wild game, good wine and special holiday beverages. Our rib roast recipe is one of the best we've discovered and is a holiday staple for Christmas dinner, no matter the count at the table.
Recipe notes: We like the crust so we make a lot of it, especially since a 6-pounder isn't enough for leftovers. A secret we've found is to let the roast set out for 4 hours, to get it to room temperature, after we put the rub on. We also "sear" the meat by roasting it at 450 degrees for 15 minutes before turning it down to 350 (using the thermometer to keep track of the internal temperature but it's always been pretty close to 2 hours in our oven).
Linda Mort
Classifieds/
Receptionist/Circulation
I already have family and friends asking when I will be
making my Christmas Fudge. Actually I stole the recipe for peanut butter fudge from my sister in New Hampshire. I never had much good luck with any kind of fudge until I tried her recipe. I started making it a few years ago and now it has become a must at the holidays. I made some for the office party a few years ago and now I do it every year. It is so easy to make that I almost feel guilty when I get complimented on it. For anyone interested, here is the recipe:
Andrew Ottoson
Sports Editor
The Ottoson boys grew up in our dad's garage, where an antique wood stove countered encroaching cold and provided heat for one of mom's holiday signatures: short loaves of beautiful brown rye bread.
Jolene Rupp
Bookeeper
Christmas Eve was always a very big and exciting time for us. We always had Christmas Eve dinner at Grandpa and Grandma Rupp's house. (Dale and Dorothy). Our children would get so excited they could hardly contain themselves.

We would start as soon as the guys got their chores done, feeding the cows etc., and then we headed for Grandpa and Grandma Rupp's house. We had dinner first which consisted of a full fledge feast! Turkey with stuffing, ham, mashed potatoes and gravy, a vegetable, Jell-O salads, relish trays, (which had a hard time making it 'til dinnertime because everyone would snack), Grandma Rupp's special dinner rolls, jams, jellies, cranberry sauce … the whole works.
Grandma Rupp had to make lots of rolls because they were to "die" for! Grandpa always carved the turkey and sliced the ham, as people would take bits and pieces that fell and stuff them quickly into their mouths. The best dinnerware was always brought out for this special feast. We had tables set for big people and tables set for the little ones. Of course cousins loved being together and out of reach of the adults! It was wall to wall people and food it seemed like would last for a century.

After dinner the grandkids would act out the story of Mary and Joseph, and Jesus' birth, while Grandpa read the account from the scriptures. The grandkids had all sorts of roles in the play, everything from sheep to cattle, donkeys, stars, etc. Then Grandma would bring out the coveted dipped chocolates. She would spend all month of December making dipped chocolates and home-made candy for this special evening. She would remind the grandkids all evening to stay out of the candy, but of course that was an open invitation for them to sneak a sample or two before dinner even began. We opened presents and had homemade pie after this event. By the time we went home we swore we would never touch food again, we were so stuffed. Of course that lasted 'til breakfast when we would sneak a piece of leftover pie! Great Memories!
Lorie Palmer
Community Editor
When I was growing up in Custer, Wash., my Grandma Faye lived next door to us. Every Christmas she would make candy: peppermint patties (homemade York variety), peanut brittle (I call it butter brittle – no baking soda in this) and Martha Washingtons (coconut fondant cookies covered in chocolate). My mother made caramel, fudge (no marshmallow crème and always with walnuts), cinnamon pinwheel fondant (so yummy. I have only made it once and it did not live up to mom's version) and root beer hard candy (cracked with a knife
handle on a cookie sheet). Before our oldest daughter was born, Valor and I started making candy for Christmas. Some of the above-mentioned as well as our own concoctions of maple crèmes, penuche (brown sugar fudge), peanut butter balls and more.
Shortly before Christmas 1992, before I had Avery, (she wasn't due until March but made her entry more than two months early in January 1993), I didn't feel well and skipped work. I went over to my grandmother's apartment, who by then was living in Ferndale, Wash., the town where I also lived. My parents had moved to Idaho and I was feeling homesick for them and just plain sad. Grandma Faye, 93 at the time, got out her old cast iron skillet and taught me to make her peanut brittle. I can close my eyes and still see her gnarled hands hefting that skillet and stirring that butter and sugar – that's all that's in it until you add the nuts – until it became a nice, golden brown color. For me, I had to see it and experience it to get it right. We also made Martha Washingtons (recipe below).
We have passed the traditions down and now make many types of candy and cookies each year, everyone helping with various aspects. We give tins and plates to friends and neighbors, sometimes adding homemade jams and jellies. Avery and Hailey love to make the frosted sugar cookies (Hailey and I made the mistake of making them without Avery her first year at college and we still hear about it) and last year my niece and great-nephew joined us for a triple batch of messy, creative fun. Even dad gets into the cutting out of cookies – he is very particular about how many cookies can be cut from one rolled out pile of dough (see top photo).
Nona Donaldson
Typesetter
Well, my family seems to think I always have to make candied yams for Thanksgiving and Christmas. And they are only good and thick and gooey if they are cooked at least 3 times. So, needless to say, I always have to start baking the yams several days before the holiday.
"It's kind of difficult to give an exact recipe because I just dump things in, but here goes," said Nona.