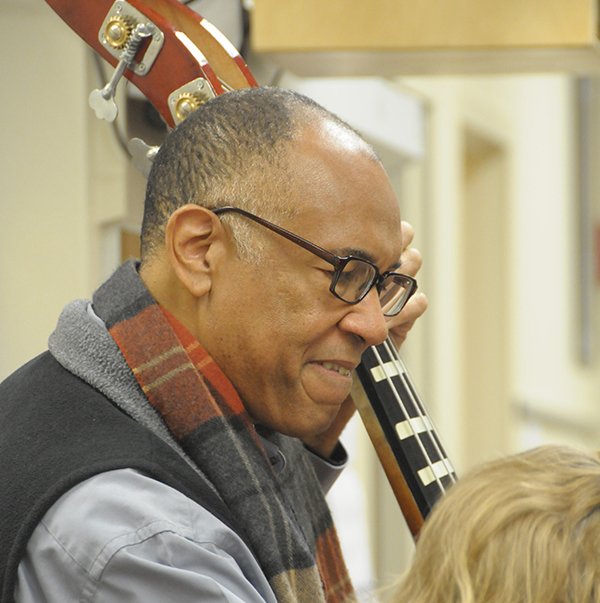 Photo by Lorie Palmer
John Clayton, artistic director of the University of Idaho Lionel Hampton Jazz Festival, visited with the Grangeville Elementary Middle School 7th-8th grade band Tuesday, Dec. 3.
GRANGEVILLE — "I love how Mrs. Stefani tells you — and you agree – you want to sound like a college band. Now let me let you in on a few secrets that separate you from professional musicians," John Clayton told the Grangeville Elementary Middle School seventh-and eighth-grade band students.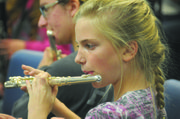 Clayton, of Los Angeles, the artistic director for the University of Idaho's Lionel Hampton Jazz Festival, accompanied by jazz festival director Steven Remington, visited the GEMS classroom Tuesday, Dec. 3.
"Take in 30 to 40 percent more air — that will help you get to that next level," Clayton said as he and the class experimented. "We've now expanded your perameters. Now, add accents to the end of each note."
Clayton worked with the band on producing big sound as he played the upright bass, his instrument of choice.
"Why would I ask you to accent each note?" he asked.
"Because it helps define each note?" asked Alyssa Prado, seventh grader.
"I could not have said it better myself," Clayton smiled.
Clayton grew up in California and has been involved in music most of his life, playing the bass the past 40 years. He currently composes, directs, teaches – he taught at University of Southern California for 21 years – and plays in a quintet as well as a large band.
"Music is really my life," he laughed, telling the kids that music is "not in your instruments — it is in you."
First invited to play in the jazz festival years ago, Clayton has been the artistic director for the past six years.
"I always tell the kids to follow their dreams because they have parents who are sacrificing for them so they can have a better life," he said. "My parents were always very supportive of me – my mom said as long as what I did was legal and I finished my schooling, it was all good."
GEMS 7/8 band was chosen as a project school to receive extra attention before and during the jazz festival in 2014. Students have been invited to attend the festival a day early and participate in workshops prior to playing at the event.
"It's an honor to be able to work with such excellent musicians and have this opportunity," Stefani said.
Remington said he and Clayton travel to a handful of schools each year: More than 150 attend the festival.
"This gives a chance to work hands on with some outlying students," he said. "The festival reaches a wide audience and this is part of that outreach." The festival is in its 47th year.
Clayton encouraged the students to try a variety of different things when they play in order to make different sounds, ending my telling them they are "great musicians."
"Right now," he said after the class was over, "these kids are not playing for themselves. They are playing because they want to please Mrs. Stefani; they feed off her incredible enthusiasm. The goal is for them one day to play for themselves."
Following his visit, Clayton donated $100 in printed music from Hal Leonard publishing for whatever Stefani and the class may like to purchase for their library. In addition, he gave the group a CD for its listening library.