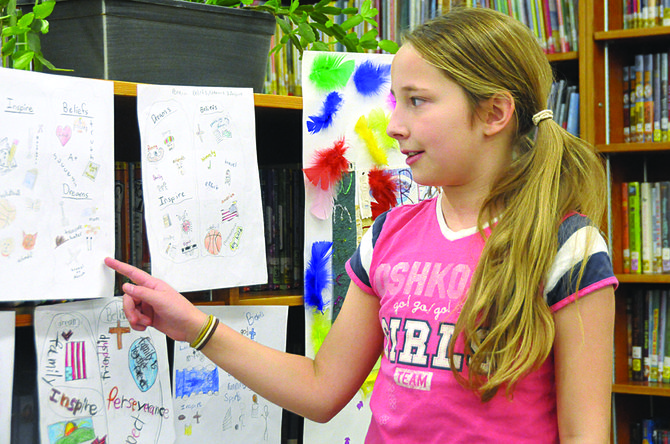 Photo by Lorie Palmer
Grangeville Elementary Middle School student Rio Buck explains her PTA Reflections project at the Nov. 21 Reflections Gallery at the GEMS library.
GRANGEVILLE — More than 60 entries for the annual PTA Reflections arts contest graced the Grangeville Elementary Middle School Library Nov. 21.
Students who entered the contest were invited to attend and give a short explanation of their entry.
This year's theme is "Dream, Believe, Inspire," and that allowed for a variety of creative self-expression from students in kindergarten through eighth grade.
"I dream of flying," said Beverly Callihan of White Bird who painted ducks flying into a sunset.
"I dream of being a dancer and I want to inspire other kids to dance," said Cheyenne Brown, showing a poster she made.
The evening was in collaboration with Family Read Week and the presentation from Nampa author Michael Strickland.
"I appreciate everyone who took the time to enter and make this a success," said volunteer organizer Genny Lutz. "We have a lot of talented kids here at GEMS."
Outside judges chose a variety of projects to go on to the district level of the competition in Lewiston. Those include the following:
Visual Arts: K-2 — Afton Winder; Beau Bruzas and Tristin Griffith; 3-5 — Chris Jones; Kaylee Paige; and Beverly Callihan; 6-8 — Megan Bashaw; Hailey Russell; and Hannah Forsyth.
Literature: Kate Lutz.
Photography: 3-5 — Zoe Lutz (two photos) and (6-8) Hailey Russell (three photos).
Music Composition: 6-8 — Iseyda Lacombe.