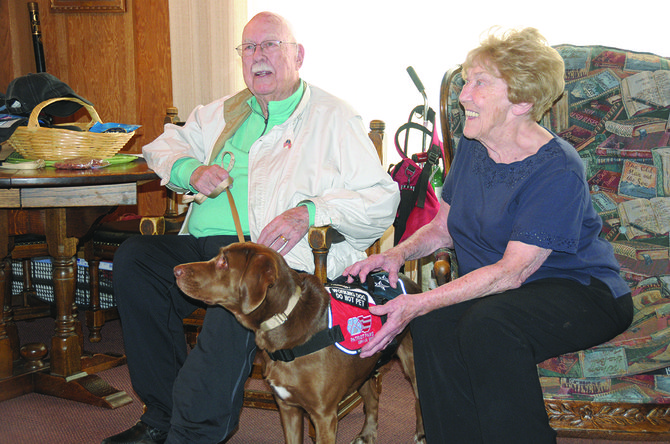 Photo by Lorie Palmer
Wayne and Nancy MacGregor are pictured here with the newest member of their family: service dog Hamilton who recently came to Grangeville from Patriots Paws in Texas.
GRANGEVILLE – Wayne MacGregor got an early Christmas present this year. He weighs 54 pounds and his name is Hamilton.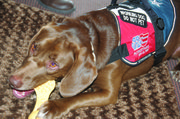 Last week, Wayne and Nancy MacGregor added a chocolate-lab service dog to their family. Hamilton came through the nonprofit organization Patriots Paws based in Texas.
"When I found out I was getting this dog I was so excited I could hardly contain myself," Wayne smiled, holding Nancy's hand. "And I know Mother will love him as much as I will."
Earlier in the year Kirk MacGregor, Wayne and Nancy's son, talked to his father about the possibility of a service dog.
"He said, 'you know Dad, you're pretty crippled up now and I worry about you. What if you fell and no one was around to get help?'" Wayne recalled. "I told him to start the ball rolling with whatever he thought was best."
Kirk found Patriots Paws through their website and sent his father's book, "Through These Portals," to Jay Springstead, a retired teacher and Vietnam veteran who works for the organization.
"Jay fell in love with Wayne MacGregor," smiled Patriots Paws executive director Lori Stevens. "Though we have a three-year waiting list, Jay kept reminding me that Wayne is 89 years old."
The application was put through to the board and approved in record time, making the MacGregors the first Idahoans to obtain a service dog through Patriots Paws. He is the 70th dog the organization has trained and placed since its inception in 2006.
"Wayne also has the distinction of being our oldest veteran to ever receive a dog," Stevens said.
She and Springstead made the trip to Idaho last week to bring Hamilton to the MacGregors. They traveled two days and spent three days in training with Wayne, Nancy and Hamilton.
Stevens started Patriots Paws when her son was deployed and she went through some additional personal challenges. She has been involved with animal training for more than 20 years and felt the need to do something tangible for veterans in need.
"We are 100 percent funded by public support. We begin when the dogs – mostly Labradors and lab mixes – are 6 weeks old," she explained.
Patriots Paws has partnered with the Texas Department of Criminal Justice, and female inmates are able to obtain accredited certification as trainers when they are chosen and complete the canine training which takes one and one-half to two years per dog. The cost to fully train and place one dog is $20,000 to $30,000. Veterans do not pay any of this cost. Rescue and shelter dogs are often used for the program.
Hamilton has been trained for 65 commands; however, because the MacGregors do not need all those commands, they focused on 12 which included getting help in an emergency, picking up and retrieving items, opening and closing doors, phone answering and discerning obstacles in the way of Wayne's walker.
"We were so afraid he would get here and be lonesome or he might be cold," Nancy said.
She didn't have to worry. Hamilton, 19 months old, romped and played in the newly fenced backyard at the MacGregor's home and was thoroughly enjoying the frigid temperature and snow-covered ground.
"He loves it," Springstead said. He helped finalizing the training of the dog and feels a special vested interest in the success of the placement.
"I just really wanted Wayne to have the perfect fit and knew he really needed a dog right away," he said. "I am so glad it has worked out this way."
The MacGregors have had longtime per dogs in their home so they said loving Hamilton will be easy.
"I do kind of think he's going to be a little special, though," Wayne said, patting the red, white and blue service vest on Hamilton.
To learn more about Patriots Paws log onto www.patriotspaws.org.