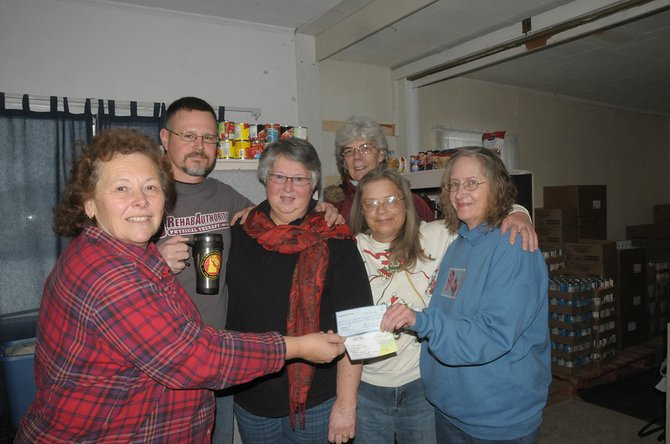 Photo by Lorie Palmer
Grangeville's People First group recently held a memorial dinner for former member Cathy Sokolowski. They were able to raise and donate $765 to the Camas Prairie Food Bank last Friday, Dec. 13. Pictured here are (L-R) Carlene Whitesell, food bank manager, Troy Steinfort, Carol Schmidt and Nan Jensen (back), food bank volunteers and Jean Vavra and Robin Evans with People First.
GRANGEVILLE – Have you thought what it might be like to not have your favorite foods for Christmas dinner? Many area residents are counting on the Camas Prairie Food Bank to help make those simple dinner meals come true.
More Info
Connect with Camas Prairie Food Bank on Facebook or by calling Carlene Whitesell at 983-5475.
CPFB is expecting to see about a total of 800 people walk through its doors for December.
"We are in need of more holiday items such as olives and desserts to help make a nice holiday meal. Desserts would include items such as pie fillings and pie crusts, cake, brownie and cookie type of mixes, J-ello and pudding, dressing or any other holiday items to help a table," said CPFB manager Carlene Whitesell. "Tortillas work well for a bread any time of year and store easily for us. We do have meat but not necessarily holiday meat. We usually give out one holiday meat item in November to be used for the holiday of choice."
The last distribution date prior to Christmas will be this Friday, Dec. 20. CPFB will be closed Dec. 24 and 31 and will be open again Dec. 27.
Whitesell said the food bank can also use clean blankets that are in good shape.

"These can be brought to us or the Methodist church where we have access to them. Blanket are for all clients in need, which includes the homeless," she explained.
Whitesell said they have seen an increase in homeless participants this year.

"Some are clients who are no longer in their home and must live in a camper or temporarily sleep on someone's floor. Others are new and living in trucks or campers in the woods with no access to electricity or water," she explained. "Some of the homeless we might see just once or for several months. Each month we are seeing new people in these types of situations."
CPFB is part of the Human Needs Council so they do have access to a "wonderful network in Grangeville," Whitesell said. This network reaches social services which includes many churches and other outreach groups or individuals.

"When we have certain needs such as household items we are able to contact everyone for help via e-mail. These groups work as the go between for clients and those meeting needs," she added.
Anyone in need of food assistance can stop by CPFB once a month. There are two food programs: the main one is the food bank but they also utilize state commodities through Community Action Agency. CPFB does not have an income qualification, however, the commodity program does.

"Income qualifications are usually easily met in our area. Therefore we are able to meet those in need of food even if their income is above state qualification guidelines," explained Whitesell.
CPFB services the needs of people in Grangeville, Cottonwood (part time), White Bird, Harpster , Clearwater and surrounding areas. Cottonwood has an emergency food bank that can be accessed through the hospital for three months. Kamiah, Kooskia, Elk City, Stites and Riggins areas each have their own food banks or emergency mobile trucks serving those areas.

CPFB partners with Experience Work and Workforce Training through the Idaho Department of Labor. They also work with those needing to complete community service. Volunteers are needed to help unload trucks or drive at least once a month. There is also assistance needed during the spring, summer and fall with outside work and with the community gardens. Those wishing to volunteer can stop by CPFB or call Whitesell. Volunteer time must be pre-scheduled as space is limited during food distribution days.