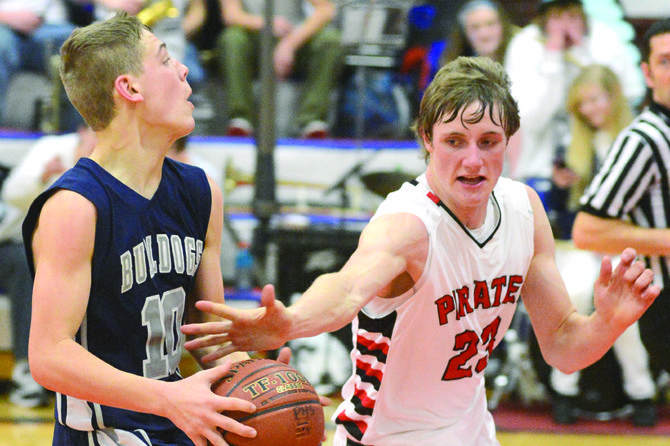 Photo by Andrew Ottoson
Prairie's Lucas Arnzen used every bit of his long reach to deflect the ball away from Grangeville's Austin Parks a beat before Parks could put up a shot attempt at the conclusion of a fast break during the Idaho County Shootout last Friday night, Dec. 13.
COTTONWOOD — The Idaho County Shootout Trophy — a couple of revolvers with barrels crossed above a square base created by the Idaho County Sheriff's Office five years ago — is a traveling trophy after all.
Although Prairie reversed the results of last year's rivalry games with two substantial basketball victories, Grangeville broke through in the sportsmanship contests for the first time in the shootout's history last Friday night, Dec. 13.
Photo Gallery
Idaho County Shootout Grangeville vs Prairie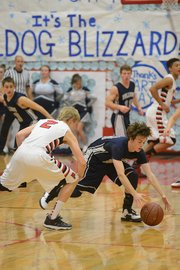 Prairie pulled away with late runs in both games — 66-56 in the boys game, 49-40 in the girls game. But in the off-court categories, the good-natured battle for the trophy tipped toward GHS.
The hijinx included a shooting contest held between the games in lieu of the cash grab that has been a staple of prior shootouts. Inland Cellular, which had sponsored the cash grab this year and in previous years, put up a few hundred dollars for the shooters to win for their side. An extra-long three-pointer by Grangeville's Jake Stokes wound up being worth a couple of hundred dollars to local food banks, for which students at both schools sought donations during the week leading up to the big games.
As with prior shootouts, the barn brimmed with decoration and energetic crowds — making the atmosphere for the games a special departure from the norm.
In total, Grangeville raised nearly $9,000 for its food banks out of a total of nearly $16,000 between the schools — about $3,000 more than the shootout brought in last year.
Boys
After a choppy first quarter, Grangeville held an 8-6 lead on the strength of a long jumper by Layton Harris.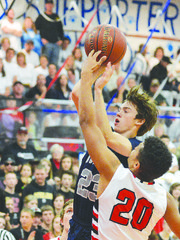 Prairie responded with a 5-0 run powered by second-chance baskets, but lost track of GHS senior guard Josh Dame, who quickly brought the Bulldogs within 13-12.
As the pace picked up, Prairie outscored Grangeville 7-1 before GHS junior forward Garrett Kennedy converted a tough layup, then a couple of free throws, then a hook shot to lift the Bulldogs within a point once again at 22-21.
The Pirates answered well enough to prevent a lead change, but GHS remained within four, 31-27, at halftime.
The pace of Grangeville's scoring stalled during the third quarter, and when PHS junior guard took a steal in for a layup late in the frame, Prairie led by 11, 47-36.
GHS closed within nine on a triple by Jake Stokes with 5:55 remaining, but after a timeout, Schlader answered that shot with a traditional three-point play. The Pirates went on to lead by as many as 19 points.
Schlader's 20 points led all scorers; Lucas Arnzen (16) and Tyler Hankerson (12) both cracked double-digits for Prairie.
Dame had Grangeville's team-high with 16 points on seven baskets and a 2-for-2 night at the line; Quaid Blankenship (13) put in five field goals and three foul shots.
Girls
Grangeville opened the scoring in the second game with a three-point shot by Chantel Key and led by as many a seven points during the game's early moments, but Prairie closed the first quarter with an 8-2 run and tacked on a 6-0 spurt to grab the lead early in the second quarter.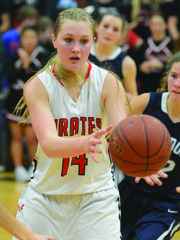 Key hit another trey — one of three she made in the contest — to put Grangeville back in front, 23-21.
The score was knotted with no time left in the second quarter — but hawkeyed GHS guard Hailey Sullivan had yet to shoot a pair of free throws she drew just before the halftime buzzer. She hit both, sending the teams to the locker rooms with Grangeville leading 27-25.
After the break, Kamiah transfer Kyndahl Ulmer then tied it at 27-27. A moment later, a layup by PHS senior Leah Holthaus knotted it at 31-31, after which Grangeville pushed out to a five-point lead.
Prairie, with Ulmer at the heart of the attack, scored eight straight points to prompt a GHS time out with 4:03 left in the game.
Prairie's run continued, and Grangeville remained stuck on 38 points until the final minute of the game. Prairie led by as many as 11 — a lead that followed from Ulmer powering in a tough score with about 90 seconds to go.
Although they run in different classifications, the Prairie-Grangeville meetings bear the hallmarks of a rivalry — with or without the extra fanfare. They're scheduled to meet again in Grangeville on Jan. 10.