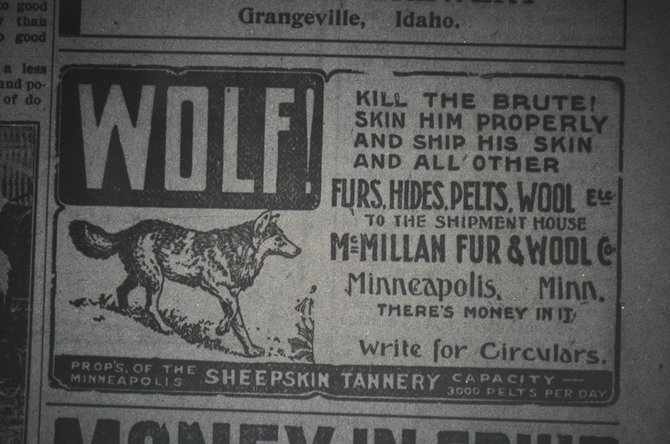 10 YEARS AGO
DECEMBER 17, 2003
•GRANGEVILLE – Ausman Realty will be closing its branch office in Grangeville this Friday, Dec. 19, as its main real estate agent Hergart Bledsoe will be moving operations to her Luke's Gulch home. She is reducing the volumn of her business and eventually phasing it out.
•POLLOCK – Gary Owen, Joint School District 241 trustee for zone 5 out of Pollock, was recently elected chairman of the Idaho School Board Association for North Idaho (Region II).
20 YEARS AGO
DECEMBER 18, 1993
•Harry D. Wilcox, son of Harry D. Wilcox of Kooskia, recently completed basic training at Recruit Training Command, San Diego.
•Marine Lance Cpl. David W. Crowe, a 1990 graduate of Clearwater Valley High School of Kooskia, is in Okinawa, Japan.
30 YEARS AGO
DECEMBER 14, 1983
•Snowhaven is offering a discount on tickets to their ski slope to individuals who purchase them Dec. 14, 15 and 16.
Cross-country skiers can purchase their Park 'n Ski tickets at various places in the area, according to Dave Hayes, an organizer of the cross-country skiing program here.
40 YEARS AGO
DECEMBER 19, 1973
•Marion Vanderwall, Camas Prairie farmer of the Grangeville area, was elected president of the Grangeville Chamber of Commerce at the annual meeting.
50 YEARS AGO
DECEMBER 19, 1963
•Snowhaven, located on a mountain south of Grangeville, is loaded with lots of good snow. Area skiers are making use of the ski club facility.
60 YEARS AGO
DECEMBER 17, 1953
•Ray Suddreth acquired the Grangeville Auto Wreckers from Wilber Gortsema.
70 YEARS AGO
DECEMBER 16, 1943
•With the departure of L.R. Powelson, Dixie postmaster, there will be but three residents in the community – Jim Smith, Charles Forbes and Lee Hida.
•Mr. and Mrs. H.F. McCulley have 12 children and they have ordered 12 war bonds for them. Of the 12 children, four are serving their country and the fifth will leave soon for the Spokane induction center.
80 YEARS AGO
DECEMBER 14, 1933
•ELK CITY – Four-horse team of Mrs. Felts, which was being driven by John Killikeski, got scared and raced madly to the American River bridge. One team took to the river while the other stayed on the bridge. The driver was pitched into the middle of the water and wagon and harness were destroyed. Neither the driver nor the horses suffered injury.
90 YEARS AGO
DECEMBER 20, 1923
•Poor-Shot, an Indian, walked into the Winona store and asked for two-bits worth of cheese. As F.G. Pickford whirled the cutter around and sliced off a thin wafer, the Indian grunted: "Huh! Damn near missed him."
100 YEARS AGO
DECEMBER 18, 1913
•J.J. Torbett, new resident from Texas, brought with him a high-stepping pacer that is causing much favorable comment by those who saw the equine going a two ten gate down the street.
•Something to fret about – the railroads of the United States used more than 150,000,000 ties last year. 110 YEARS AGO
DECEMBER 17, 1903
•TOLO – A literacy society was organized with George Troeh, president.
•Rev. Willard Roots is maintaining his claim as circuit rider this season.
•Camas Prairie Aerie of Eagles has already attained prominence as one of the big lodges of that order and in honor of its rapid growth R.H. Hartman has been made District Deputy for North Idaho.
120 YEARS AGO
DECEMBER 15, 1983
•The Brockman pulled in with a load of freight. They left Lewiston with 3,300 pounds but left half of it at Cottonwood, not caring to attempt to cross the prairie on account of the fearful depth of mud. On the way the feed grain gave out and one of the horses got his nose under the canvas and devoured a dozen corn brooms all except the wire and handles.