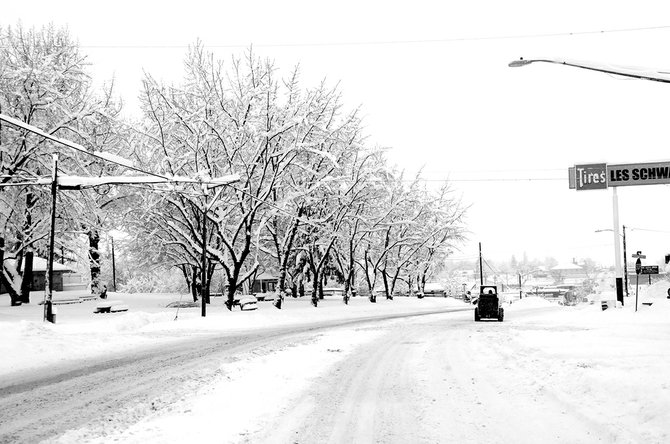 Photo by Lorie Palmer
Travelers need to be extra careful on slick, snowy roads.
AAA projects 94.5 million Americans will journey 50 miles or more from home during the year-end holiday season, an increase of 0.6 percent from the 94 million people who traveled last year. This upward trend marks the fifth consecutive year of increases and the highest travel volume recorded for the Christmas –New Year's holiday period. The year-end holiday period is defined as Saturday, December 21 to Wednesday, January 1.
Approximately 91 percent of travelers or 85.8 million people plan to travel by automobile during the year-end holidays. This is a 0.9 percent increase over the 85.1 million people who traveled by auto last year. Great news for those traveling by car, gas prices remain low. The average price of regular unleaded gasoline in Washington is $3.31 per gallon, the same as one month ago and six cents less than last year. In Idaho, the state average is $3.12, 20 cents less than one month ago and 17 cents less than one year ago. Nationally, gas prices have climbed slightly from the multi-year low of $3.18 per gallon on November 12, because of planned and unplanned maintenance at a number of refineries and seasonally stronger demand for gasoline.
Air travel is expected to decrease 1.4 percent as 5.53 million holiday travelers will take to the skies. Those traveling by air will find airfares slightly lower than last year. During Christmas week the average lowest round-trip rate is $199 for the top 40 U.S. air routes compared to $204 last year. Approximately 3.13 million travelers will choose other modes of transportation, including rail, bus and cruise ship.
Hotel rates for AAA Three Diamond lodgings are expected to average $138 per night compared to $142 last year. Travelers planning to stay at AAA Two Diamond hotels can expect to pay an average cost of $102 per night, compared to $101 in 2012. Weekend daily car rental rates will average $63, compared to $55 last year.
According to the survey of intended travelers, the average distance traveled is expected to be 805 miles, which is an increase of 45 miles from last year when travelers logged 760 miles. Median spending is expected to be $765 up from $759 last year. Visiting with friends and family (74 percent), Dining (70 percent) and shopping (51 percent) will be the most popular activities.