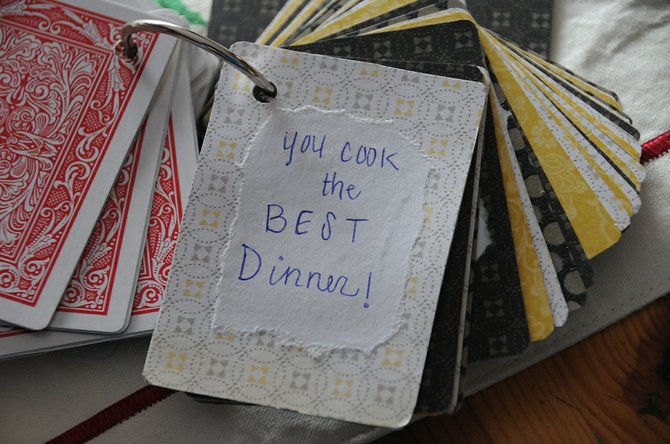 Photo by Lorie Palmer
My college-aged daughter, Avery Russell, made the above card-set of "52 Reasons I Love You: The Subset of a Much Larger List" for Christmas 2012. This and a letter from my youngest daughter, Hailey, were the best presents I received.
Compiled by Lorie Palmer, Idaho County Free Press
Reporter's note: I put a call out on Facebook last week asking area residents for the most memorable Christmass and received a handful of great responses. I had been thinking of many great Christmases I have had, made wonderful not just by gifts but by the people and events in my life. However, I do recall some of the greatest gifts as a child such as the Mattel Velvet doll whose hair "grew." I still have her. Or the year when I was in high school and my parents bought a phone for my room. Wow. It was a hang-on-the-wall dial phone and by the time we left Custer, Wash., it was well worn from years of use. And there was the Christmas my mom refused to even think about Superstar Barbie (she had – gasp! –pierced ears) but my brothers pooled their money and bought her for me (I also still have her – she just has gaping holes in her ears where the earrings once were). Last year my best gifts were a letter from my youngest daughter and a handmade card deck of "52 Reasons I Love You" from my oldest daughter. Christmas is great for memories and I hope you enjoy some memories from the following Grangeville women.
Diana Higgins: "When Bill and I moved to Idaho from San Diego 23 years ago after he got out of the Navy, he was a college student and I was supporting us on $7 an hour. Our first winter we had nothing! I remember us both unwrapping a lot of gifts like winter hats, gloves, scarves, and he even managed to find a pair of Sorel snow boots for me that were cheaper because they were a kids' size. What I remember was that there was no sense of deprivation at the practical gifts; rather, it felt so cozy to have someone love you enough to care that your feet and head and hands were warm! All these years later, I still have the wool cap and I remember that cared-for feeling every time I wear it."
Kathy Ackerman: "The best gifts I ever received were gifts I didn't fully appreciate until many years had passed and it was too late to really thank the giver.
My grandmother was a school teacher in rural one-room schools in the late '20s and early '30s and then again as a substitute for a time in the late '40s. She loved reading and was a fantastic storyteller. She always tried to instill that love in my brother and me, but we were never as taken with it as she probably hoped. However, she must have thought that I was more likely than my brother to take up her love for reading because, over the years, for birthdays and Christmas, she would often give me a "check holder" … a worn old book with a very generous check enclosed. I'm ashamed to admit that the books were far less meaningful to me than the number on the check! Nevertheless, I did keep the books she gave me because I realized that they meant something special to her and that was enough for me.
At some point, well into my adult life and after my grandma had passed away, I went to my bookshelf one day looking for something new and interesting to read. My hand came to rest on one of the books she had given me many years earlier. It was entitled, "The Keys of the Kingdom," authored by A. J. Cronin. On the inside cover she had written in her nearly perfect school teacher script "With all my love, To Kathy From Grandma." I began reading … and I was mesmerized by the story. I read the entire book in short order, eagerly turning the pages as the life of Father Francis Chisholm unfolded before me. I really loved that book! That led me to other books she had given me like "Crosswinds" by Martha Cheavens, which was another page-turner from an era when lives were much different, much more simple, than today. Inscribed on its inside cover was, "Very good—suitable for the nursing home." (She often volunteered her time reading to residents at the nursing home.) I have to say that while I had come to enjoy reading by that time, those books… given from the heart by my grandmother and unappreciated for so long…were what made me love reading.
My grandma died in 1999, but I still miss her sometimes. Whenever I do, I am so thankful for the "check holders" lining my bookshelves and beckoning me to read them just one more time.
Yolanda Stout: "My favorite memory is making tamales with my grandma and now making them with my granddaughter."
Frances Conklin: "One of my very best Christmas gifts was the year my husband paid off the mortgage of our house. He wrapped the receipt in a large Christmas card. Thus ended my long-standing nightmares of becoming a bag lady in old age."
Gail Stowers: "I got a pony when I was 10. I rode bareback all summer. That Christmas I got a beautiful saddle. I still have that saddle ...but, during 50 years … it has shrunk ... (wink)."