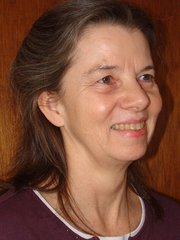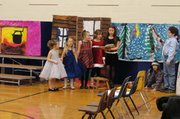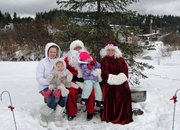 ELK CITY — As Savannah said, "Even though our school population is small, our kids have a great show to put on for you all," and they sure did. They did a great job and looked like they really enjoyed themselves! The photo shows the community enjoying these little ones, and not so little ones putting on their best performances. The seven children in the school who put on a delightful show are Tayson Nunnally, Peytyn Chaffee, Natalee Lamar, Elizabeth Tow, Lance Horrocks, Beverly Farmer, Kloe Lehrkamp, Samuel Hickman and Zoe Lehrkamp. Two of the students, fifth graders Zoe Lehrkamp and Samuel Hickman, signed Silent Night. The teachers should be commended for their direction of the play – Debbie Layman and Savannah Thompson-Tow, as well as all their helpers. Santa was there to hand out goodies as well.
The next day in the park, Santa showed up again, this time with Mrs. Clause (see photo). They handed out goodies and had hot dogs and hot drinks to warm up the insides as it was very cold with the wind blowing and light snow falling at times.
Plan to enjoy a Christmas Eve potluck at the Wilderness Eatery. Bring your favorite dish and the turkey and ham will be provided starting a 2 p.m. until closing time – whenever everyone has had enough food and fellowship.
Well, I pray that everyone has a blessed Christmas season and a safe and happy New Year. Here's looking to Jesus, the author and finisher of our faith.
Birthdays: David Phillips, Jerry Phillips, Nathaniel Johnson, Luke Johnson and Allen Enos.
Memorials: Jim Morley.