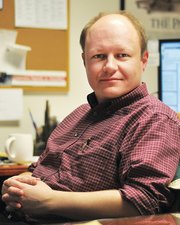 A year following the approximate $6.1 million donation through the Orrin Webb estate, the Grangeville community is seeing improvements in infrastructure, buildings and programs, as well as plans for more good works down the road.
But it doesn't take millions of dollars to make a difference. What it takes is the intent of heart to be a community supporter.
Periodically we make this call to our readers, and it's a reminder we dutifully put out there as we all need our minds refreshed with how our spirit of giving is what makes communities thrive. And in the absence of that giving, we also see how communities – through the disappearance of services, organizations and events/festivals – slowly die.
Of the things you enjoy, ask yourselves how well they would continue if the volunteers running things decided to call it quits. Many of you who have lived here for an extended period of time have already seen that decline and know that answer, remembering how lively and vibrant your town used to be with a more active volunteer base.
Many say they love living in Idaho County for its communities and its rural character. Well, taking only without giving back isn't much of a love relationship. Sounds pretty selfish and shortsighted.
Yeah, we're laying a guilt trip. But take a short ride and see. We bet at the end you could find an hour or two to spare each month.
That would be a Christmas gift worth giving.