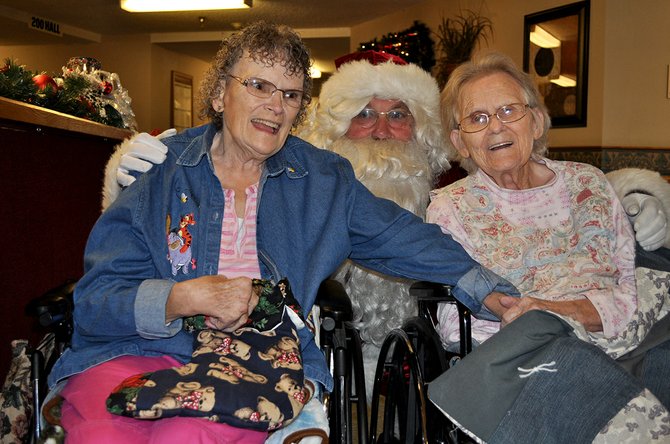 Photo by David Rauzi
Santa Claus paid an early visit to Grangeville Health and Rehab last Thursday, Dec. 19, to pass out gifts homemade by NICI inmates. Among the recipients were residents (L-R) Brenda Childers and Ruth Whitesell.
GRANGEVILLE – "Merry Christmas," shouted Santa Claus as he entered Grangeville Health and Rehab (GHR) last Thursday.
The Jolly Old Elf made an early trip to the long term care facility bearing gifts that were handmade by inmates at North Idaho Correctional Institution at Cottonwood: Christmas stockings, lap blankets, comfort pillows, tree decorations and holiday greeting cards.
"They really enjoyed doing it, especially knowing where these gifts were going," said NICI prerelease specialist Sandy Halbert. Of NICI's 413 inmates, she estimated three-fourths of the population was involved in creating these gifts, largely with donated materials.
Along with GHR, gifts were also to be distributed to the Monastery at St. Gertrude and the Cottonwood Shelter Home.
On making these items, "One inmate said, 'This is the best Christmas I've had since I was a kid,'" Halbert said.