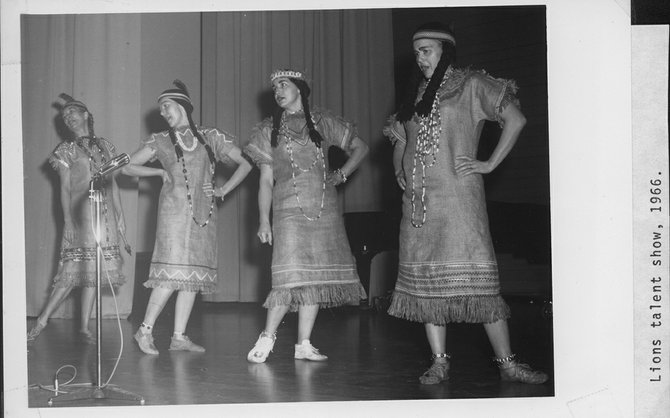 10 YEARS AGO
DECEMBER 24, 2003
•KOOSKIA – CVHS graduate Chaske (James) Spencer will appear in the Hallmark Hall of Fame movie, "The Dreamkeeper," Dec. 28 and 29 on ABC.
•GRANGEIVLLE – An account for Skyler Badertscher has been set up at Sterling Savings Bank in Grangeville. Badertscher, the son of Marty and Jennifer, was diagnosed with leukemia in November.
20 YEARS AGO
DECEMBER 23, 1993
•There was never any question for Asa Nims of Kamiah about what he would study in college. The Boise State University senior loves to draw and design and he had been painting signboards with his dad since he was 13 years old.
30 YEARS AGO
DECEMBER 21, 1983
•Dear Santa,
I have given it a lot of thought. I am going to get lovable mom a beautiful ring and lovable dad a stealhead fishing pole.
Love Trever
•Dear Santa
I wish that the poor people could have thousands of dollars so they could have homes, food, clothes, shoe, and cars, so they an drive on the streets. I wish the children had toys and books so they could read in school.
Love Brian
•Dear Santa,
I want a B-B gun for Christmas so I can shoot mag pies.
Love Matthew
40 YEARS AGO
DECEMBER 26, 1973
•A dish full of buttercups was brought into the Idaho County Free Press this week by Burt Snyder. They came from his ranch between Harpster and Stites. Each year people like to see who can bring in the first report of buttercups to the Free Press, but with the open winter we have experienced this year, the small flowers have been reported throughout the winter months.
50 YEARS AGO
DECEMBER 26, 1963
•Airmen stationed at the Cottonwood Air Force station were hosts Christmas Day to 21 boys and girls from St. Joseph's Children Home, Culdesac.
60 YEARS AGO
DECEMBER 24, 1953
•Holiday mail cancellations reached a new high with 4,143 more pieces than a year ago.
70 YEARS AGO
DECEMBEDR 23, 1943
•Grangeville is no one-horse town. No, there is usually more than one horse in town each day. The pioneer A&F Store has always provided a hitching rack for 64 years and is having the rack repaired for many more years of service.
80 YEARS AGO
DECEMBER 21, 1933
•Idaho County has been allotted 80 additional men for the Civil Works Administration.
90 YEARS AGO
DECEMBER 27, 1923
•The state will soon finish rebuilding the Salmon River road and nervous motorists can drive through the canyon without fear of meeting disaster.
100 YEARS AGO
DECEMBER 25, 1913
•KOOSKIA – Upwards of 100 hogs were stolen this week from ranchers in the Stites area. It is said the pig rustlers are known but the whereabouts of the pigs is the mystery.
EDWARDSBURG – Normally a man may be perfectly sober when he begins the descent of Steamboat mountain toward the South Fork country but by the time he has circled that mountain 27 times and seen the Dustan ranch from as many angles, he begins to doubt his sobriety even though only grape juice is served in Warren.
110 YEARS AGO
DECEMBER 24, 1903
•Charles Goode has the distinction of being the first man to come to town from Tahoe Ridge on horseback over the new road.
120 YEARS AGO
DECEMBER 22, 1893
•A man residing on Joseph Plains killed five cougars in one day. The largest cougar measured nine feet.