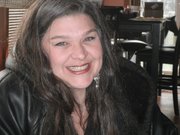 WHITE BIRD — Merry Christmas, everyone! It's hard to believe that it's here already. It's also hard to believe that there are so many money scams going on right now. People are broke, and have forgotten the true meaning of Christmas. Desperation makes people do ugly things. Be careful. My Grandpa Atwood got scammed for $2,150. Some "lawyer" called him and told him that my brother had been in a car wreck. He even had some guy talking to him, pretending to be Chad with a broken nose. The other party involved was demanding money for something or other, and, of course, my grandpa, being the generous and beautiful person that he is, even though he certainly can't afford it, handed over the money. It happens. Be alert and pray for these souls, people!
The Silver Dollar will have another cribbage tournament this Saturday. Join in and play cards at 2 p.m.
Hootie will have a New Year's Eve dance and dinner for you all. There will be dinner specials of prime rib, baby back ribs and New York steak from 5-8 p.m. The live music of Beargrass Classic Country will be from 8 p.m. to midnight. Let's say goodbye to 2013 and welcome 2014. Wow, where does the time go?
However you decide to ring in the New Year, be safe. If you indulge in spirits, make sure you have a designated driver.
There really isn't much for me to report this week, due to early deadlines, so I quit, until next year. God Bless us all!
Happy birthday this week to: Jesus Christ, Carolyn Wood, Brooke Hendren, Terry Eller, Sara Dalgliesh, Tom Parr I miss you, Ricky Alley, Phil Talley, Amber Farmer, Richard Galberth, Tonya Cullin, Jack Bailey, Rachel Franzen, Conner West, Kallie and Katie Buss, Shaylon Lyon, Maryann Carlin, Michelle Dobbs, Chad Montgomery, Heather Tyson, Ed Clark and Sam Hagen.