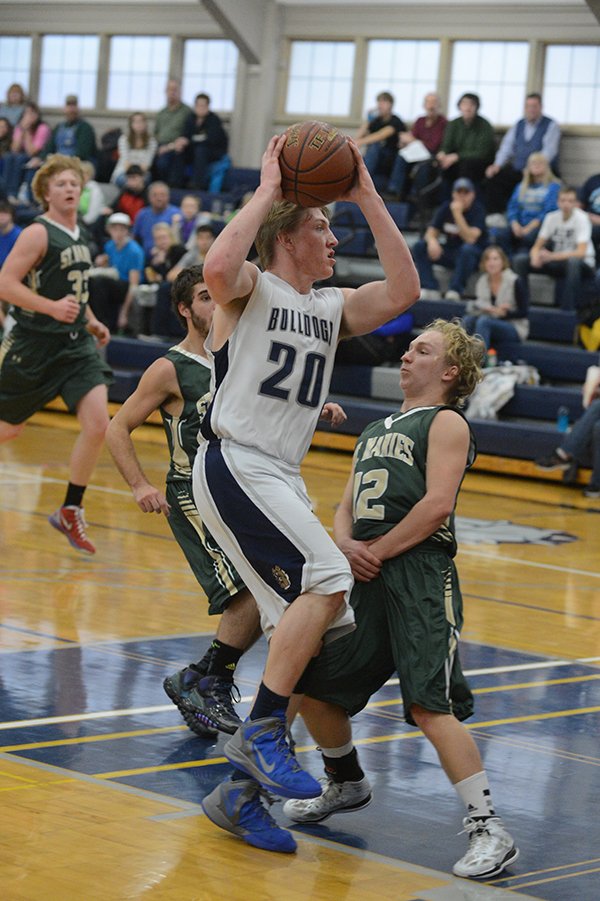 Photo by Andrew Ottoson
Guard Michael Wilson attacks the basket to score a layup as St. Maries' Jordan Bedwell shuffles his feet during Grangeville's Central Idaho League opener. Wilson drew at least six fouls in the game, and, adding six-of-nine free throws, he co-led the Bulldogs with eight points last Saturday, Dec. 21.
GRANGEVILLE — Though they shot poorly, the Bulldogs out-paced St. Maries 46-42 in their first Central Idaho League contest of the season last Saturday, Dec. 21.
"In some aspects, I was really happy with the win," coach Skip Hall said. "Normally we don't play zone, but we had to. I was tired of sending them to the free throw line, and the kids did well with it."
The Bulldogs, averaging 58.4 points per game during their five previous contests, ran slightly ahead of their ordinary output early on.
Photo Gallery
Grangeville vs. St. Maries Dec. 21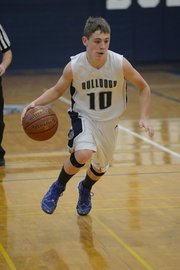 Coming out of a timeout trailing 26-23 during the third quarter, Grangeville went inside to junior forward Garrett Kennedy, who put in a hook shot and back outside for consecutive treys by Jake Stokes.
Grangeville regained the lead, 31-30 on a layup by junior guard Michael Wilson, but when Lumberjacks senior Cody Posselt knocked down one of his day's three triples, St. Maries pulled ahead.
Grangeville answered with a three by sophomore guard Layton Harris. Harris made it 39-35 with another triple during the fourth quarter, and senior guard Josh Dame upped the advantage to six with a jumper. But St. Maries scored seven straight to retake the lead, 42-41.
Grangeville then took a lead it would not give up, 43-42, and held St. Maries scoreless for more than two minutes to close out the game.
Sophomore guard Austin Parks converted both ends of a one-and-one at the foul line with less than a minute remaining, and hit another free throw to make it a four-point game with 36 seconds left.
Early in the contest, Kennedy popped a three-pointer for the first GHS basket and, after junior guard Michael Wilson hit a free throw, senior forward Jasper Sabatino followed up with Grangeville's second trey.
The Bulldogs wound up making six threes in the game, but also converted just 23 percent of their attempts from the field.
Then the Bulldogs drew two quick fouls in transition and made all four free throws for an 11-5 lead.
Senior forward Alex Koberstein scored on a hook shot and sophomore guard Layton Harris capped the quarter with a jumper.
But when the Bulldogs went cold during the second quarter, St. Maries outscored Grangeville 13-2.
"We took a lot of bad shots in the first half," Hall said. "In the second half, Stokes and Harris turned the game around."
Press defenses sparked St. Maries' run, which gave the Lumberjacks an 18-17 lead on a steal that led to a layup — a turnover forced with a well-timed halfcourt trap.
The pressure bothered Grangeville — "at first," Hall said. But the Bulldogs rapidly adapted and lifted themselves into a 21-18 lead with 23 seconds left in the first half.
St. Maries tied it with a three by Posselt just before halftime.
Coming — Grangeville (4-2) will visit Coeur d'Alene Charter for a league game on Saturday, Jan. 4.
"I gave them a week off," Hall said. "After the break our schedule gets intense."