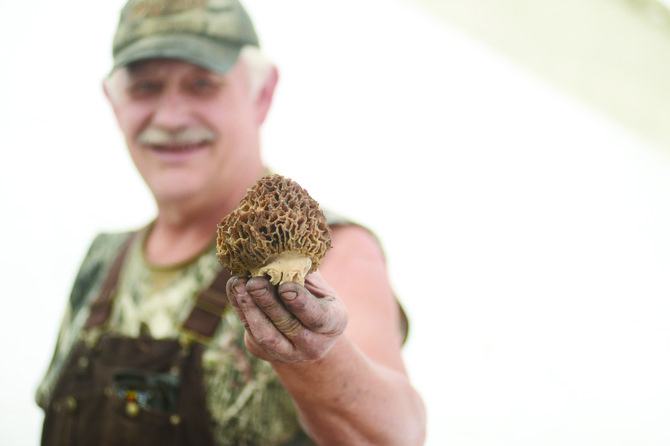 Photo by Andrew Ottoson
Bob Facey shows off one of the thousands of morel mushrooms drying in his shop, Grangeville Auto Diesel, on Monday, June 3.
A legion of mushroom foragers has been hauling morels out of the forests for a month, and some of these mushroom hunters have been selling their haul in Grangeville. Of those, the most productive pickers saw their totals rising every day last week: from as much as 30 pounds per day during the last bit of May to more than 70 pounds on the first day of June.
With crews from California and Oregon pausing to scoop up some profits while waiting for the gigantic burned areas near Stanley to start popping, roughly 400 pounds of morels are changing hands every day in Grangeville alone.
Many of those morels have been naturals, whose season is coming to a close, but the fire morel harvest may jump up to as much as 5,000 pounds per day in Riggins.
That's according to Ross Owens, a buyer who is planning to set up a commercial dryer at Grangeville Auto Diesel capable of handling 1,600 pounds of morels per day.
And that's on the assumption only about a fourth of the total haul will end up being dried.
Owens last week paid $4 per pound for the "Number Two" naturals, $6 per pound for the better naturals, and roughly $10 per pound for the best lots of fire morels. As the quantities coming off the forest increase, prices may fall.
In a month of running a makeshift dryer out of the back of Bob Facey's building, Owens has seen 6,000-7,000 pounds come through. He said buyers closer to Riggins are seeing roughly 1,000 pounds per day.
Prices, which change daily, fluctuate in response to the mushroom market's invisible hand of supply and demand -a balance discovered in the course of Owens' competition with other buyers in White Bird and Riggins. It pays for sellers to find out how much all the buyers are offering - and some of the most productive pickers are selling to Owens.
"We have about 10 or 12 guys selling to us every day, and we're getting about 300 pounds per day for fresh sale and another 100 pounds for drying," Owens said. "Some of the best pickers are making $300-$500 per day."
Not a bad payday, considering the investment for those getting started amounts to little more than the cost of camping plus a commercial mushroom permit ($20 for seven days, ranging up to $100 for the whole season, available at the National Forest offices) plus equipment. Equipment amounts to a bucket and finding a knife (which need not even be sharp) for trimming stems to the quarter- to half-inch length Owens recommends.
"A lot of people pick in plastic bags, which is wrong," Owens said. "The bag doesn't let air in. They get hot, they sweat, they roll around. They end up looking terrible. We recommend picking in a five-gallon bucket with holes drilled in the bottom and sides to let air in."
As for where to find the morels, naturals are commonly associated with white fir stands, while fire morels will carpet the ground when conditions are right everywhere that burned last season.
"It all depends on soil temperature," Owens said. "June 1 is typical kickoff for fire morels, through the end of July. They start out low and south and flush high and north as the ground temperature rises. They like it warm and wet."