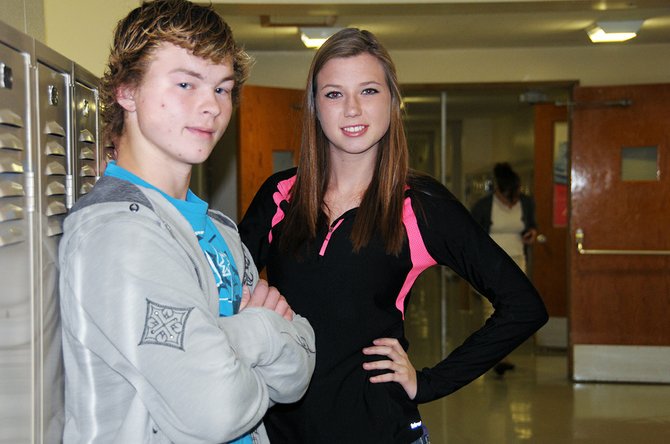 Photo by Lorie Palmer
Grangeville High School seniors Chase Hunter and Jenni Forsmann have been instrumental in the planning of the annual GHS Veterans Day assembly which is set for Monday, Nov. 11.
Grangeville — "The willingness with which our young people are likely to serve in any war, no matter how justified, shall be directly proportional to how they perceive veterans of early wars were treated and appreciated by our nation." Those words were spoken by the first president of the United States, George Washington. Grangeville High School students are setting out to make sure area veterans obtain the respect they deserve.
To that end, the GHS Current Events class, taught by Pat Sullivan, is putting together the annual Veterans Day Assembly, set for the high school gym Monday, Nov. 11, 9 a.m.
"I believe this is an opportunity to show appreciation for all veterans, a day of commemoration to honor their service," said senior Chase Hunter. Hunter is working on the assembly as part of his senior project on veterans.
The cause is near and dear to Hunter's heart: his father, grandfathers and great-grandfathers all served in the Army. In addition, he is in the delayed-entry program for the Marine Corps.
"Since about the age of 7 I have idolized veterans and have wanted to go into the military," Hunter said. "To have the family history of those who have served definitely gives me an investment in this project."
Senior Jenni Forsmann, media representative for the assembly, said the event is not only to show appreciation to local veterans, but also to educate students about their past.
"This is a current events class, but current events has to include history – what has happened in the past explains the chain reactions that contribute to what is going on in our world today," Forsmann explained. "We have to understand the past in order to help us move forward in the future, and a very important part of our past is our veterans."
Students in the class – freshmen through seniors — each have their own area to which they contributed: invitations, interviews, video editing, music, student thoughts on what Veterans Day means to them and program set-up.
The current events class has not been offered in about five years, said Pat Sullivan, so the program was previously put together by ASB officers, individual students and through senior projects. However, with the class being offered again this year, Sullivan gave everyone jobs.
"We have a wonderful community that offers tremendous support for education," Sullivan said. "When we do something to give back to the community, we want to do a first-class job."
Junior Addie Lutz and sophomore Hailey Sullivan have been busy putting together some thank –you surprises for the veterans and said they appreciate the fact they are able to help with the project in a capacity they enjoy.
"It's cool that we have the freedom to input on ways to honor our veterans," Lutz said.
"I love how many of the veterans show up in their uniforms," added Hailey. "This program really shows respect for what they did and respect for our country."
The public is invited to attend the event and any veteran who would like to attend who has not already been invited is asked to call the GHS office at 983-0580 and leave their name, contact number and branch of service. They may also e-mail sullivanp@sd244.org.
"This is a way to put a face on veterans. It's a way for them to be part of the community and give a little back to them," said Hunter. "It's a way to make a connection between veterans and students that is meaningful."
"It's one thing to thank a veteran generally but it's an entirely different thing to see them face-to-face, shake a hand and say 'thank you,' while looking in their eyes," Sullivan said.