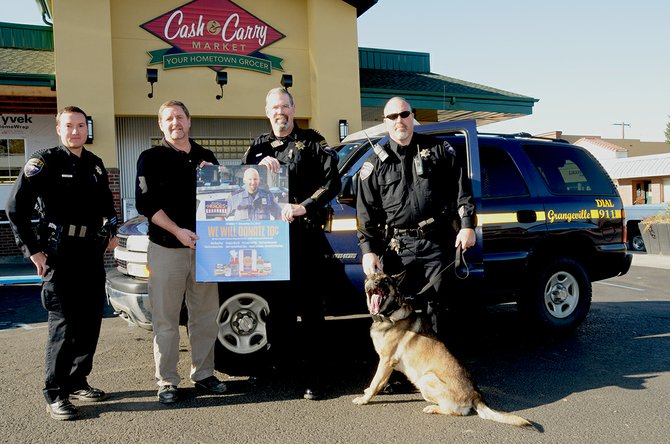 Photo by Lorie Palmer
Hometown Heroes recipient of the next donation project through Western Family Foods and Cash and Carry Market in Grangeville will be the Grangeville Police Department. Pictured here (L-R) are officer Mike Quintal, Cash and Carry owner Jim Schmidt, Police Chief Drew Morgan and officer Wes Walters with his canine companion.
Grangeville — Wouldn't you like to donate your money to something that is recirculated within your own community? You have that chance.
Cash and Carry Market is participating in the Hometown Heroes promotion for a second quarter. The first quarter, donations were collected for the Grangeville Volunteer Fire Department. More than $1,300 was raised through donations as well as products purchased.
"Specific products are on sale and when customers purchase them, 10 cents go to the Hometown Heroes fund and Cash and Carry matches that," explained Cash and Carry Market owner Jim Schmidt.
This quarter, which runs now through Dec. 31, the Grangeville Police Department will be the recipient of the donations.
"We appreciate this and plan to use a portion of the money to help purchase first-aid trauma kits for our officers as well as help with community education programs," explained Grangeville Police Chief Morgan Drew.
Items that are in this round which Western Family provides 10 cents per item for include Gold Medal flour, Colgate toothpaste, Pompeian olive oil, Jack Frost Fred plastic cups, Ghirardeli baking chips, American Beauty pasta, Pet evaporated milk and Best Foods mayonnaise. A display in the store will also list these items.
"There will also be donation jars at the checkout and our community has been very giving," Schmidt said.
In coming months local teachers and military personnel/veterans will also be honored through this program.