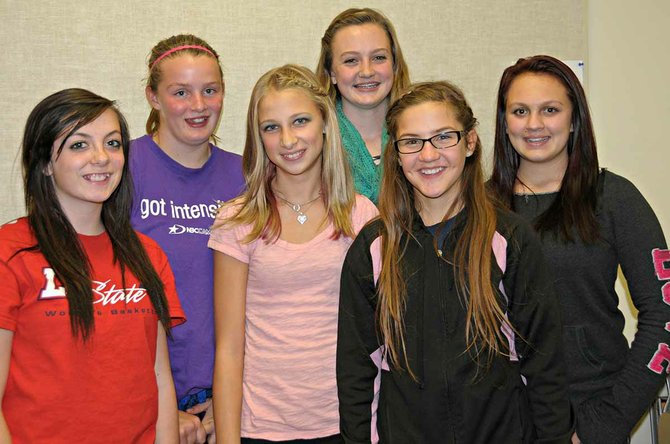 Photo by Lorie Palmer
Pictured are Rough Rider 4-H Club officers for 2013-14 (L-R) Hailey Russell, reporter; Colby Canaday, treasurer; Bella Klapprich, secretary; Rachel Kelley, president; Micaela Farris, sergeant-at-arms; and Kayla Creutzberg, vice-president.
Rough Riders 4-H Club met Oct. 23 at GEMS. Those present were Kortney Sims, Rachel Kelley, Bella Klapprich, Micaela Farris, Macenzie Farris, Kayla Creutzberg, Iseyda LaCombe, Emmy Williams, Colby Canaday, Hailey Russell, leaders Debbie Kelley and Lisa Canaday, and five parents.
Elections were held for the coming year. Rachel Kelley was elected president; Creutzberg is vice-president; Klapprich is secretary; Colby Canady is treasurer; Russell is reporter and Micaela Farris is sergeant-at-arms. The group went over the year's goals and a tentative activity and meeting calendar.
The group will meet the third Wednesday of each month, 6 p.m., at the GEMS Community Room. New members are welcome to join Rough Riders. Those participating must attend at least six meetings during the 4-H year in order to participate at the Idaho County Fair.
The next meeting is set for Nov. 20.

















—Hailey Russell