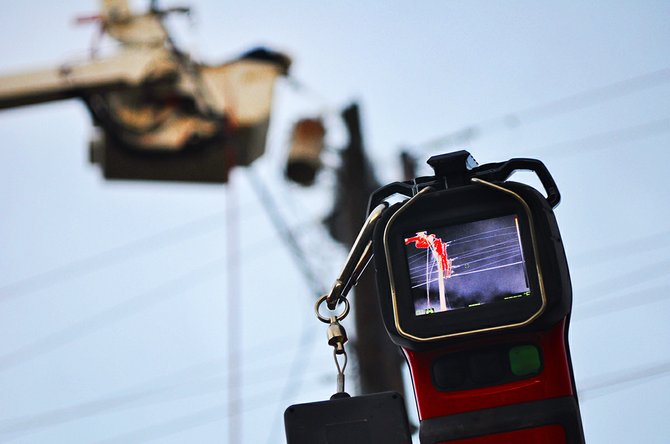 Photo by David Rauzi
Avista customers in Grangeville and Elk City suffered a power outage Saturday, Nov. 2, after a power pole on North Idaho and Middle streets in Grangeville burned through, causing the crossarms to collapse and short out the line. Here, an infrared camera shows the heat on the sections of the burnt pole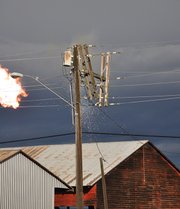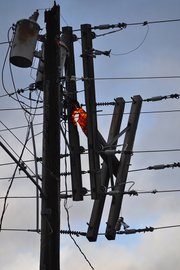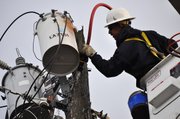 Grangeville — A Saturday afternoon utility pole fire resulted in damage that knocked out power to 665 Avista Utility customers for several hours.
The outage occurred at 3:08 p.m., Nov. 2, when a wooden pole, located at North Idaho and Middle streets in Grangeville, burned through just below two crossarms that were carrying lines of 34,500 and 13,200 volts, respectively. The section of pole snapped off, swinging the crossarms into the wires, resulting in a shower of sparks and a fireball, and shorting out the lines feeding into Grangeville and Elk City.
Of the total customers affected, Avista spokesman Debbie Simock reported 658 were in Grangeville, with the last being restored back to power around 5 p.m. Seven of Elk City's impacted Avista customers were back online around 8 p.m. Avista crews remained on site for pole replacement until 1:15 a.m. Sunday, Nov. 3.
Cause of the fire was due to a buildup of summer dirt, dust and debris that combined with recent moisture to create electric conduction to the pole, according to Simock.
Along with Avista crews, officers with the Grangeville Police Department and Idaho County Sheriff's Office provided scene control, and the Grangeville Volunteer Fire Department responded to control the pole fire.