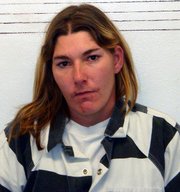 Arraignment is set next month for an Elk City woman charged in the September beating death of Lora K. Vandenburg.
Tara Rose Mendenhall, 27, remains held in the Idaho County Jail on $250,000 bond, waiting formal charging at a Dec. 6 hearing in District Court for felony second-degree murder.
According to the criminal complaint, Mendenhall is alleged to have beat Vandenburg, 44, with her fist, and lifted and dropped her to the ground during a Sept. 24 incident at a private residence three miles outside of Elk City. Vandenburg died on Oct. 5 at St. Joseph Regional Medical Center in Lewiston of injuries allegedly sustained in the incident.
Following four hours of testimony from seven witnesses at a preliminary hearing last Friday, Nov. 8, Magistrate Judge Jeff Payne determined probable cause was sufficient to bind Mendenhall over to District Court. While some witness testimony was in dispute about the actual beating, according to Payne, statements were consistent on events that Vandenburg was responsive, functioning normally and conscious prior to Mendenhall entering the car she was in, her becoming angry at Vandenburg revealing she had stolen items from Mendenhall's car and that on being removed by Mendenhall from the vehicle Vandenburg was limp and unresponsive.
A dispute did take place and Mendenhall admitted to punching Vandenburg twice in the face while in the car, Judge Payne summarized from testimony, and while Vandenburg was unresponsive, Mendenhall was picking her up and dropping her.
"Clearly Miss Mendenhall was not trying to help Miss Vandenburg," he said.
From witness testimony last week, Idaho County Prosecutor Kirk MacGregor laid out the case that Mendenhall intentionally battered Vandenburg in an argument over the stolen items, and that the alleged resulting injury – a subdural hematoma — caused her subsequent death. Countering this, defense attorney Daren Fales brought into question witness credibility and the contradictory statements on whether or not Mendenhall struck Vandenburg outside the car, and that the death-causing injuries may have been instead from an alleged assault by her boyfriend, Bernard Platz, two weeks prior.
Platz is currently charged with attempted strangulation and domestic battery causing a traumatic injury, both felonies, for a Sept. 7 incident with Vandenburg. He is set for trial Dec. 11.
Testimony was that on Sept. 24, Vandenburg and Mendenhall, along with James "Jimmers" Zillmer of Elk City, shared a half-gallon of whiskey in a four-to-six-hour period and went shooting, and later drove in Mendenhall's car to the private residence of Janet Prior where only Zillmer and Mendenhall went inside. Mendenhall went back out to retrieve tobacco and cigarette papers, and in the car she found Vandenburg with items in her possession – a Diskman, makeup and jewelry — taken from inside the car.
Zillmer testified Mendenhall was yelling at Vandenburg in the car and subsequently pulled her out where she stood up and collapsed on the ground. He saw Mendenhall try to make Vandenburg stand up, picking her up and letting her drop four to five times. Zillmer said Vandenburg wasn't responsive, wasn't defending herself, and though she was "playing possum."
Witness Dixie Blundell testified she had been drinking earlier that afternoon and was sleeping inside the residence when she heard Zillmer shouting for Mendenhall to stop. She went outside and saw Mendenhall allegedly straddling Vandenburg, who was lying on the ground, and hitting her; twice she watched her punch Vandenburg her a few times and say, "I don't want to hurt you." During this she said Vandenburg was not moving and was unresponsive.
"I thought she was conscious. I thought she was just intoxicated," said Blundell. "She opened her eyes a brief minute and that was it."
In Mendenhall's testimony to Idaho County Sheriff's Investigator Brian Hewson, she said she was "pissed" and had struck Vandenburg twice in the left cheek while in the car, and that she pushed Vandenburg out of the car where she landed on one knee and her buttocks, stood up and took a few staggering steps and fell onto her back "like a board." Mendenhall told him she didn't she hit Vandenburg other than in the vehicle, and that she felt she wasn't responsible for Vandenburg's condition, "and would be fighting it."
Medical testimony was that Vandenburg was at 'death's door when she got there," testified Dr. Daniel Doherty, who was in the Syringa Hospital emergency room for Vandenburg's initial evaluation and treatment. Doherty's testimony was a severe injury had caused internal bleeding and subsequent significant pressure on the brain. During this, prosecutor MacGregor sought to clarify Vandenburg's injury was caused that day as a result of Mendenhall's actions. Attorney Fales questioned if this could have been as-yet unhealed damage from the earlier alleged domestic assault, noting, for example, the lack of visible facial injuries from someone battered in such a manner.