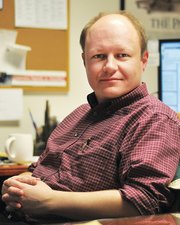 The statement was shocking: a man recently told a local middle school student (… really, a kid??) that the President needed to be assassinated.
The man was not in his right mind, stopping folks in the store and hanging on beyond the edge of annoyance with his discussions of upcoming disaster and conspiracy, claiming pastoral accreditation yet saying and advocating things totally contrary to such training.
And he's our creation. Own up to it.
Why so?
Our growing discourteousness in speech affects us like the old tale of the frog unknowingly being slowly boiled to death: no notice of the escalating danger until it is too late. Overall, the public at large is immersed in this culture of speaking and spreading negativism – whether at the coffee shop or in online posts - and so for many we're aware and rarely flinch when those Molotov cocktails come whizzing cross the tips of our noses.
But some lack that discernment, the ability to turn out the noise of frustrated blowhards and chronic doomsayers. For these individuals, each successive comment of outrageous slander lands in their laps, building atop the prior, creating a load that soon becomes burdensome and a cause for anxiety.
And then they roam on streets and World Wide Web pages, promoting lawlessness and immorality, adding yet more discourteousness and dissent to the discourse.
Hey, it's easy to be discouraged and disenfranchised as events and policy makers shake or remake the underpinnings of our lives from afar. But we need to be better than the bomb throwers who live to bask in the heat of their own creations: We need to be better stewards of how we react, of the discussions we enter into and allow to be tolerated, and of the actions we promote as solutions.
We, each of us, are responsible for civil discourse.
— David Rauzi
drauzi@idahocountyfreepress.com
for the editorial board