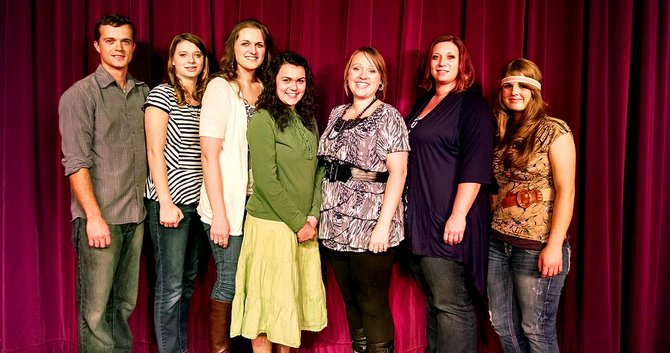 Contributed photo / Brandon Graves
Opera House Has Talent finalists (L-R) are Thann Shira, Josie Laufenberg, Kristy Powell, Kelly Turney, Kelsy Colwell, Rebecca Lewis and Petriciah Williams.
Kooskia — Finalists have been chosen for the "Opera House Has Talent" competition. Semifinalists competed Saturday, Nov. 9.
Contestants from all over the Northwest danced, sang, and performed. Thann Shira and Josie Laufenberg of Grangeville won over the crowd with John Denver's "Leaving on a Jet Plane" and were voted the crowd favorite for the evening automatically putting them in the finals and getting them $100 in cash. The judges then put five additional performers through to the finalists which are set for Saturday, Nov. 23.

The following contestants will face-off against each other to see who will be crowned "Opera House has Talent" Champion 2013: Thann Shira/Josie Laufenberg of Grangeville; Kristy Powell of Colfax, Wash.; Petriciah Williams of Kooskia; Rebecca Lewis of Genesee via Pennsylvania; Kelsey Colwell of Kamiah; and Kelly Turney of White Bird.
The contestants will compete for more than $1500 in prize money as well as additional prizes.

This week's judges, Kymberlee, Johny Schuster (Winner of Northwestern Idol), Dakoda White (winner of Opera House has Talent 2012) performed for the audience.
Tickets are $12 and are available at Graves Green Thumb Nursery in Kooskia, or by calling 926-0094.