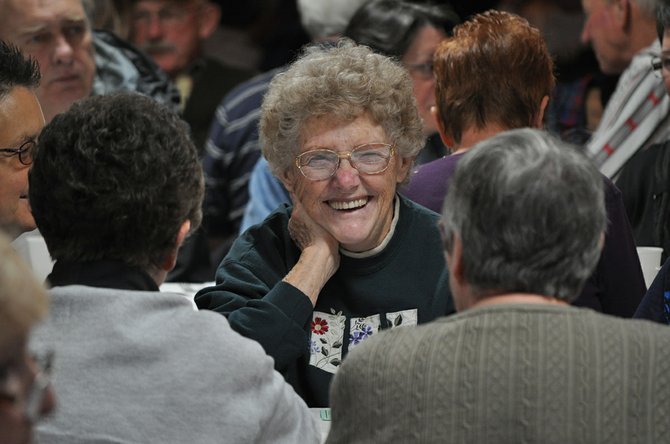 Photo by David Rauzi
Idaho County Light and Power Cooperative held its 75th annual membership meeting on Thursday, Nov. 7, at the Grangeville Elk Lodge. A member shares a smile during Thursday's luncheon.
Photo Gallery
ICLP 75th annual membership meeting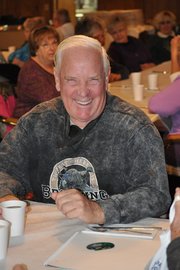 Idaho County Light and Power Cooperative held its 75th annual membership meeting on Thursday, Nov. 7, at the Grangeville Elk Lodge.
Grangeville — Idaho County Light and Power Cooperative members packed the Grangeville Elks Lodge last week for the association's business meeting, and to also commemorate three-quarters of a century of rural services.
"Members, I would like to welcome you to your 75th annual members meeting," said Ernie Robinson, ICLP president, "and I have to say, you don't look a day over 50."
Ernie opened his report with a look back to the cooperative's start: the year, 1938, when 12 members were the extent of the co-op, which had no employees, trucks or equipment. But 12 months later brought a loan from the Rural Electrification Administration that in turn provided for power lines construction, and then a contract to purchase power to energize the first 60 homes.
"Today, your cooperative has become the foundation for over 3,300 families, farmers, ranchers, loggers and others," Robinson said, "by providing a stable and reliable source of electric power, necessary in today's world."
This milestone meeting drew nearly 330 people last Thursday, Nov. 7, for the annual review of the cooperative's operations during the past year, and what lay in store for the future. Part of that future was a 5.5 percent rate increase, effective Jan. 1, driven to offset the rising costs of service, according to ICLP General Manager Jake Eimers.
"We are seeing increases of 12 percent for cost of power," Eimers said, "which is nearly 40 percent of our cost of doing business, 6 percent in insurances, 3 percent or more in materials, supplies and other services."
The effect of this for members is the monthly service charge goes from $17.50 to $20, and the energy charge on all blocks increases about one-third cent per kWh. A member using 1,000 kWh per month will see an increase of $5.70.
The last increase was two years prior, and was also as a result of a hike in the wholesale cost of power. "Knock on wood," Eimers continued, "hopefully, we won't need to consider another change for at least two years."
Reporting on the 2012 fiscal year, secretary/treasurer Cliff Tacke said both the cooperative's and the Idaho County Propane (ICP) subsidiary's total net value was virtually the same as the prior year at approximately $16.4 million. However, members' equity has grown to more than $10 million, and outstanding debt, accounts payable and other liabilities make up the remaining $6.4 million.
Sales of electricity provided approximately 63 percent of the more than $7.7 million in combined operative revenues, with propane sales providing approximately 36 percent. Tacke said electric cost of power and electric operations account for about 36 percent of combined operating expenses of $7.3 million, with the cost of propane and propane operations providing 31 percent.
A decrease in revenues was due to an increase in electric revenues of $165,000 but a reduction in propane revenues of more than $550,000. Similarly, electric operating expenses increased $300,000 versus propane operating expenses going down $630,000. Total margins for 2012 were $512,430.
For 2012, operating revenues were $7,763,162 with $7,324,117 in total operating expenses, for net operating margins of $439,045 (down by $55,589 from 2011). Electric services were up by 40 in 2012 for an average 3,750 for the year, and propane customers were up by 68 for a total 3,260. Total electric kilowatt hours sold (48,769,214 in 2012) were down by 1,312,506.
"ICP had a very good year in regards to propane sales, growing by over 150,000 gallons more than the previous year, and surpassing 1.5 million gallons for the first time in the company's history," said Dist. 4 Director Kim Dahler. "One major factor in this growth was increased sales to large commercial consumers. This is a market that your staff has been working hard to develop as sales to the residential sector have slowed due to the higher prices in recent years."
Despite that both sales and customers grew during the previous year, he continued, total revenues dropped by almost $350,000 as the cost of propane dropped significantly as compared with the prior year, "which also meant that we could charge you less; a win-win for propane consumers."
Eimers reported the John Day Hydro Plant, since its purchase in March 2011, has generated more than 6,531,312 kWhs. That power is sold to Avista and it has offset interest and principle payments and operating costs by more than $276,893. This summer and fall the plant had operating challenges, not seen the two summers prior, from silt and debris. Currently the plant is down for needed maintenance on bearings and the hydro turbine.