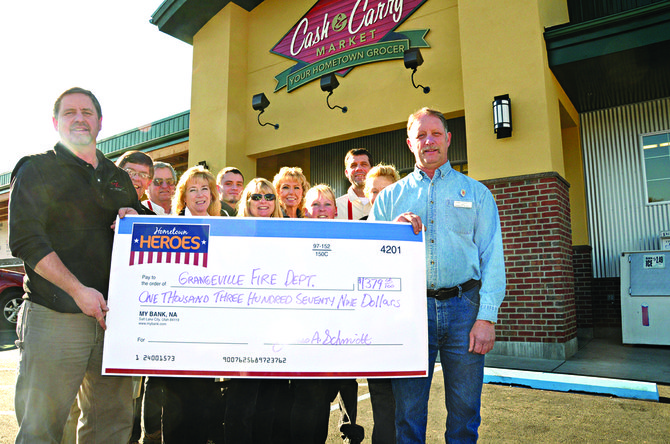 Photo by Lorie Palmer
Cash and Carry Market owner Jim Schmidt (left) and several of his employees pass the big check to Danny Tackett, Grangeville Volunteer Fire Department (right) in the amount of $1,379.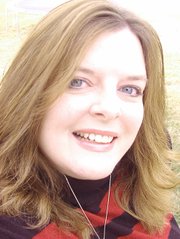 A Holiday Open House is set for Pure Elegance Salon (formerly the Hair Hut) in Cottonwood Saturday, Nov. 16, 10:30 a.m. to 1:30 p.m. There will be Thirty-one gifts, Scentsy, Paparazzi Jewelry, Mary Kay and some crafts will be available.
•
Join Gem Design on Thursday, Nov. 21, 5-7 p.m., for a Chamber After Hours/Open House event. Stop by the business at 1015 Middle Street for beer, wine, and appetizers provided by the Twisted Cellar, and raffle prizes and discounts on apparel. RSVP is not required, but will help with knowing what food to prepare. E-mail info@gemdesigninc.com or call 983-2320.
•
Anne Frasier was chosen as the St. Mary's Hospital Employee of the Month for November.
Fraiser has been employed by SMH as a clinic RN since December of 2011; prior to coming to St. Mary's Anne worked at Palouse Medical in Pullman, Wash. When not working, she said she loves to spend time outdoors and with her family and she loves "Girls Night Out." She has two children and three grandchildren.
•
Don't be surprised to see the Capital High School football players on the GHS field this Thursday night or Friday morning. The team is on their way to Coeur d'Alene for playoffs and will be staying at Super 8, practicing here and eating breakfast. They will also be attended a movie at Blue Fox Theater thanks to owner Chris Wagner. They will be accompanied by CHS principal John Ruzicka, a graduate of Grangeville High School and son of Bettie Ruzicka, and his son, Reece, who is on the team.
•
Friday, Nov. 15, has been designated as America Recycles Day. Area recyclers can take pride in their accomplishments during the past four years. Recycling centers in Grangeville, Kooskia and Cottonwood have been established and more than two million pounds of recyclables have been diverted from the landfills and repurposed into new products. Monetary savings have also been significant—garbage dumping fees alone would have averaged over $67,000.
For information visit www.idahocounty.gov or call 983-2843.
•
A "Little Jelly Bags" class will be instructed by Arlene Perrine at Homegrown Quilts on Grangeville's Main Street Monday, Nov. 18, 5:30-8:30 p.m. Class fee is $10 plus pattern and supplies for the confident beginner. Call 983-0254.
•
Apparently yesterday, Nov. 12, 2013 (11-12-13) was a popular day to get married for the "lucky" consecutive numbers. The next big "lucky" day will be Dec. 12, 2014 (12-13-14). The next day to roll around kind of like that will not be until Jan. 2, 2030 (1-2-30). Interesting.
•
Did you know at the distance of 10 miles your eyes can detect the light of a single candle. I learned that from a commercial. And television commercials don't lie.
•
So, the Grangeville Community Foundation grant event on Nov. 6 was very nice. Kris Blankenship provided the food and when my daughter ate it she said, "We're not used to fancy food like this. We're more used to Hamburger Helper." Wow. So that's our life in a nutshell. Kind of makes us sound cheap and easy.