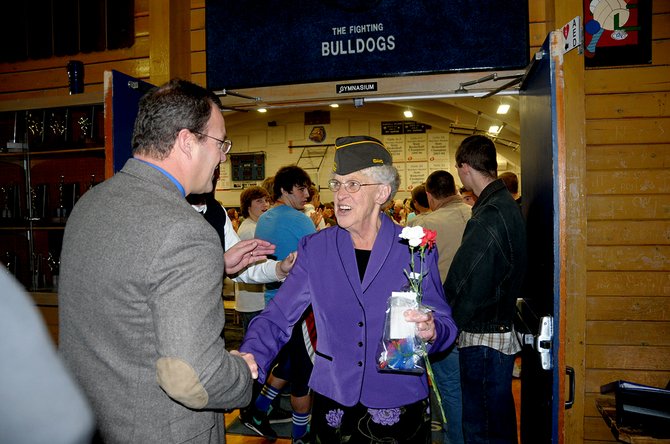 Photo by Lorie Palmer
Connie Workman of Grangeville, a retired Air Force nurse, is seen here walking through the student tunnel and being congratulated by Mountain View School District 244 Superintendent Kent Stokes at the Grangeville High School Veterans Day Assembly Nov. 11. Workman was the guest speaker at the event.
Photo Gallery
Veterans Day Assembly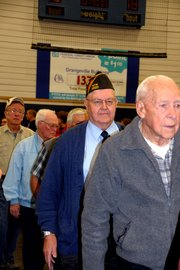 Mr. Sullivan's Grangeville High School current events class put on the annual Veterans Day assembly Monday, Nov. 11, with more than 150 people from the community attending to see the 70 attending veterans honored. Students, led by senior Chance Hunter, made videos of interviews with veterans, read inspiring thoughts on what Veterans Day means to them and presented flowers and certificates to each veteran. The GHS band and choirs played and sang and local quilters presented 14 Quilts of Valor. The Eagles Aerie 539 members handed our cookies to veterans and students made a human tunnel for veterans to walk through at the end of the assembly. Students were able to shake hands with and thank each veteran who attended. Special speaker for the event was Connie Workman who retired from the Air Force after serving 20 years as a nurse.
Grangeville — "I'm proud I grew up in Grangeville, I'm proud I graduated from Grangeville High School and I am proud to have served 20 years in the U.S. Air Force and be a Vietnam veteran," said Connie Workman to the student body and visitors at Grangeville High School.
Workman was the special speaker for the more than 150 community residents and 70 veterans who attended the annual Veterans Day assembly at GHS Monday, Nov. 11, under the direction of Mr. Sullivan's current events class.
Workman related a small portion of her duties at Cam Ranh Bay when she arrived in Vietnam where, as an RN, she helped care for soldiers at a field hospital.
"Growing up in Grangeville, I had no problem using an outdoor privy – I had one until I was 8 years old," Workman relayed. "But some of those girls from New York City didn't fare so well!"
"And we had a shower house with no curtains so we asked some of the pilots to pick up some when they went to the Philippines and they sure brought us some – clear plastic!" Workman told the laughing crowd.
Workman acknowledged how humbled she was when she saw the caskets lined up, containing dead soldiers.
"I thought about the all the dinners and events they would never go to, the parents and families who would never have their loved ones," her voice broke.
When she came home her welcome was not that of a hero.
"I was doing my job and at first I was angry at the response by some, but then I was greeted by my community," she smiled. "This community – you – affirmed me."
The assembly included the introduction of veterans and flowers, certificates and cookies (provided by the Eagles) for each veteran as well as 14 Quilts of Valor presented by local quilters.
"This makes 90 quilts so far for our small area and we won't stop until we have all veterans who have been touched by war covered," said quilter Kathy Warford.
GHS sophomore Hailey Sullivan summed up the assembly with these words: "Veterans are our guardian angels here on earth."