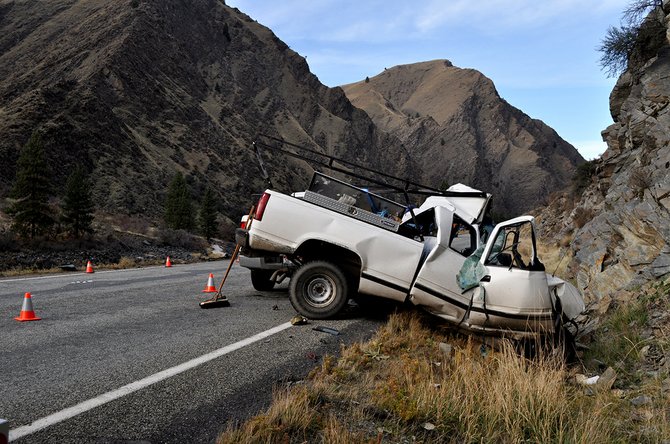 Photo by David Rauzi
Lester L. Ladner of Donnelly, died Monday morning, Nov. 11, after his northbound pickup (pictured) collided with a southbound semi-truck and trailer two miles north of Riggins.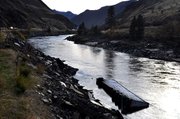 Riggins — Idaho State Police is continuing its investigation into Monday's fatal two-vehicle collision two miles north of Riggins.
Lester L. Ladner, 57, of Donnelly, died at the scene of injuries suffered in the crash. The other driver, Jeremy M. Scheuerman, 30, of Lewiston, escaped from his submerged semi-truck, having suffered minor injuries and was treated at the scene.
"That he made it out was miraculous," said ISP Trooper William Adams.
North-south traffic came to a standstill shortly after the crash, reported at 11:33 a.m. Nov. 11, milepost 197.1, just north of the Time Zone Bridge. According to ISP, Ladner was traveling northbound in a 1991 Chevrolet pickup when he veered across the center line and collided with a southbound semi-tractor and trailer, driven by Scheuerman. The pickup came to rest on the southbound shoulder. The semi-tractor and trailer continued off the roadway, down the embankment and into the Salmon River. The semi was submerged, and half of the trailer remained above water.
Ken Grumley of Grangeville, hauling a load of cement feed bunks northbound, came upon the accident just shortly after it had occurred, he said.
"The driver had already made it up the hill and was standing there soaking wet," Grumley said, where passersby gave him a dry shirt and coat to keep warm. Diesel fuel from the semi-truck, spilled when the fuel tank exploded during the crash, was burning over the bank. Salmon River Rural Fire Department crews applied foam to quickly extinguish the fire.
Both lanes of traffic were blocked for three hours until 2:30 p.m. when Ladner's body and accident debris were removed and the southbound roadway reopened. Vehicles were backed up approximately two miles each way when partial U.S. 95 travel was restored.
Wrecker crews were back on scene Tuesday, Nov. 12 to attempt to retrieve the semi-tractor and trailer, owned by Baker Trucking of Grangeville, from the river.
ISP was assisted on scene by the Idaho County Sheriff's Office, Riggins ambulance and the Idaho Transportation Department.