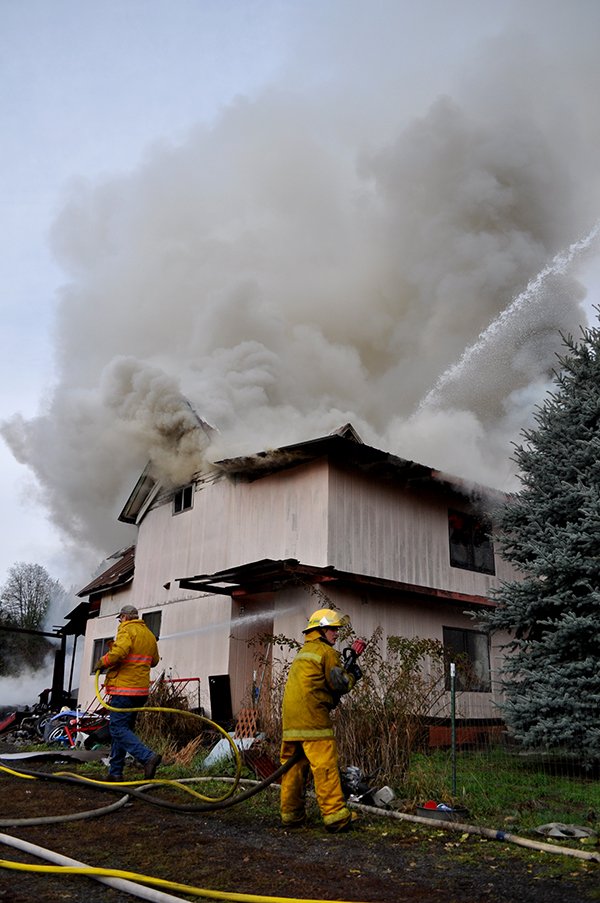 Kooskia — Multiple firefighting agencies were pulled in on a Saturday house fire at Kooskia that potentially could have spread and engulfed the entire block.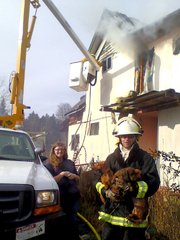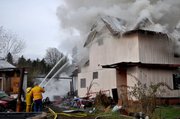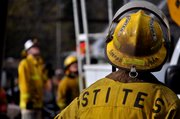 Efforts, however, contained the blaze to the two-story home, 410 Ping Street, owned by Fred Hendren, who lived at the residence with his son and several dogs. All escaped the fire without injury.
"I knew it was a big house with a lot of stuff that I knew would burn around it," said Chief Mark Anderson, Kooskia Volunteer Fire Department. "I probably over ordered, but I didn't want to lose the entire block."
Along with KVFD, additional crews with the BPC, Harpster, Ridge Runner and Stites fire departments, and the Kooskia Ambulance – 30 personnel overall and six engines – were dispatched following the 10:08 a.m. call. Cause of the fire is undetermined; however, it originated in Hendren's adjacent shop and shortly afterward spread to the home. With initial firefighters' arrival, according to Anderson, the home's attic and second floor were heavily involved in flame.
"The strategy was definitely defensive to keep it from spreading to the neighborhood," Anderson said. As the roof was already collapsing in, aggressive entry with firefighters into the home was not attempted for safety. However, several dogs were found huddled in a corner by firefighters and safety removed out through a window, he said.
In the fire's aftermath, the shop was destroyed, and the home's second story was gutted by fire and its roof collapsed; Anderson noted the house is still standing but non salvageable, suffering from fire, smoke and water damage. A neighbor's motor home was also destroyed.
The American Red Cross responded to assist the Hendrens with funds for food and clothing. Other relief efforts led locally were pending.
"I really appreciate all the help the other fire departments brought," Anderson said.
Also assisting on scene were Idaho County Sheriff's Office personnel — corporals Randy Long and Carlos Martinez, Deputy Jon Tibbetts and Undersheriff Jim Gorges – Kelly Frazier of City of Kooskia Public Works and Avista.