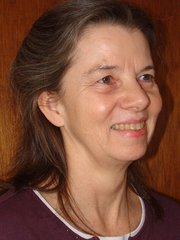 Elk City — There were "gobs" of people at the Veterans Day dinner held at the VFW Sunday night, according to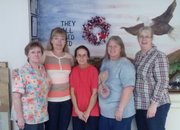 Kim. The auxiliary would like to express their appreciation to the community for their participation and turnout for this important event.
The Sew-Help-Me Quilters presented two more Quilts of Valor (I will have photos for you in the next couple of weeks as the photographer for the event went on vacation and I was out of town.).

One quilt went to Jim Bailey who served in the Coast Guard for four years, some of which were in Vietnam. He was a first class petty officer and was an electronic technician.
The other quilt went to Dick Park, a sergeant in the Army who was in Special Forces. He completed three tours of Vietnam from 1969-1972 as a radio operator, although he served a total of six years for his country.

Zoe Lehrcamp read her essay for the Patriots Pen, and did an "awesome" job, according to Kim.
Tim Chaffee, as commander of the VFW unit, received a wreath.
The "Gotcha" Bag was won by Andy Bodden of Lewiston.
It has been great seeing the different ways people will honor our heroes.
We were able to attend a Veterans Day celebration at my daughter's church down in Meridian this last weekend. I was very impressed with the honor the whole church showed our veterans. The guest preacher for Sunday school gave a lesson on why wars have been fought throughout the ages and how America was considered the "Grand Experiment" just a couple of hundred years ago. Our son-in-law participated in the honor guard to present the colors at the beginning. They then had veterans from four of the services give a message honoring others who served throughout the wars. The highlight for me was when three talented children from the same family played their violins and sang all the service songs while those in the audience from those services stood up to be honored. It was a moving tribute and brought tears to my eyes.
Our granddaughter's school down in Kooskia is building a memorial wall with pictures of veterans from their families. In going back and looking at family photos, I was able to find that two of her great-great-grandfathers served in WWI, a great-grandfather served in WWII, and her grandfather served during the Vietnam era. I personally know that many of my uncles, her great-uncles, served in various branches of the service during the last 65 years. Makes me want to research how far back this kind of patriotism goes!
As many of you know, we have had many fires this past year here in Elk City. The latest one was the house that Dan McCrery was living in. He was overwhelmed with the support people showed him that he wrote a letter to the community and asked me to include it in this column.
"Dear friends and neighbors, It is with a happy heart and a full one with all your friendships and the love given to one man and the prayers. There is no other place on earth you may find this, and those many people willing to show others how much they are cared for. It has been said God watches over his kids. If so, God and all of you have filled my heart. It has been asked of me by many people, how we can help. I am sorry to say I will know more when Delona has looked and try to see what it will take to do what she has to think about. For myself, I would like to hear your thoughts about how to fix the roof on the old house. Myself, I have love, friends and neighbors and a town full of prayers and love. What more can a man or anyone ask for, please let me and God know. A friend to all, Danny L. McCrary. P.S. Thank you all with love and prayers."
Birthdays: Jeanette Johnson, Lilly Denham, Ethan Denham, Robin Hendrickson and Shawn Phillips.
Anniversaries: Jim and Ginny Lyke.
Meetings: VFW on Nov. 14.
Reminder: The Lovell family would like to invite everyone to a memorial service for Peggy Lovell on Saturday, Nov. 16, at the Elk City Saloon & Café. There will be a special memorial burning service at Nelson Creek campground at 1 p.m. and they would like "Nelson Creek to be for anyone." They would like everyone to bring a letter or more or even just "I will miss you" written down and they can either read it then burn it or just burn it so the smoke can carry our love to her. We will then host a potluck lunch following at the Saloon from 3-6 p.m. Feel free to stay around for the live music starting at 8 p.m.
Community lunch is every Monday at the Wilderness Eatery from noon on.