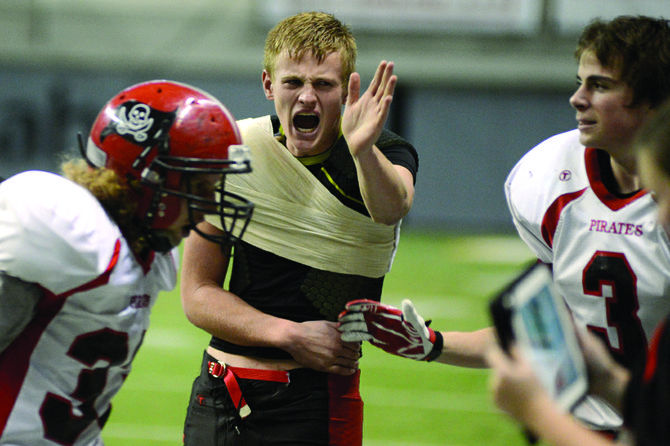 Photo by Andrew Ottoson
Pirates starting quarterback Jake Bruner was forced out of the game last Friday night, Nov. 15 at the Kibbie Dome, when he injured his shoulder during the first half. But when senior lineman Joseph Halligan (foreground) recovered an onside kick late in the game, he and the whole Pirates sideline erupted. Also pictured is John M. Mager.
MOSCOW — Prairie's bid to upend Troy began with a brilliant offensive and defensive sequence and included a couple of magic moments near the end of the contest. But the Pirates' bag of big plays did not include a way to stop the Trojan ground game, as Zach Bafus carried Troy to a 42-36 victory in last Friday night's 1AD1 semifinal contest at the Kibbie Dome.
Photo Gallery
Prairie vs. Troy - 1AD1 Football Playoffs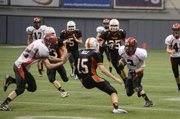 PHS forced Troy quarterback Cody Self into an awkward turnover on the game's opening possession, and the PHS offense followed with a seven-play series that saw Pirates quarterback Jake Bruner convert a fourth down with one short run and score the game's first points with another.
Then the Pirates forced a three-and-out and drove into the Troy red zone before turning the ball over on an interception. Troy knotted the game at 8-8 on a toss sweep to Zach Bafus early in the second quarter, then went ahead 14-8 on a long bomb from Self to Kellen Hoskins.
Prairie countered with a bomb from Bruner to Rhett Schlader, which, combined with successful conversions, put PHS ahead 16-14 3:28 before halftime.
The half ended with Self sacked on one of his wing-dang-do scrambles in his backfield. He evaded Prairie's Casey Danly with help from a big block, but wound up running right back into Danly, who had jumped up and put himself in prime position to make a play.
Bruner was forced out of the game with a shoulder injury he sustained defending a pass play just before halftime.
The third quarter began with the Pirates vaulting ahead, 24-14, on a run by Calvin Hinkelman — but the period turned into a disaster for Prairie after Bafus scored on a run through a gaping hole, which went for 57 yards on Troy's first play of the second half.
The Trojans pulled ahead 28-24 on another scoring pass to Hoskins, then ramped the advantage to 10 with another Bafus run.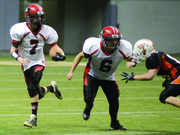 Prairie got one score back with a perfect play call, on which Schlader, stepping in at quarterback for the injured Bruner, delivered a screen pass to Hunter McWilliams, who with help from a block by Dakota Wilson went 72 yards down the Troy sideline for a touchdown.
The Trojans tacked on a Hoskins run late in the fourth quarter — vital insurance, it turned out.
Prairie again closed within a touchdown on a run by Isaiah Shears, then recovered an onside kick when Joseph Halligan sniffed out the loose ball in a pile of Troy players who failed to corral it. But Troy stymied the Pirates' last good opportunity and bled out most of the clock before pinning Prairie deep with an excellent punt.
The Pirates finished 8-3, with regular season losses to Salmon River and Troy; they placed third in their classification.