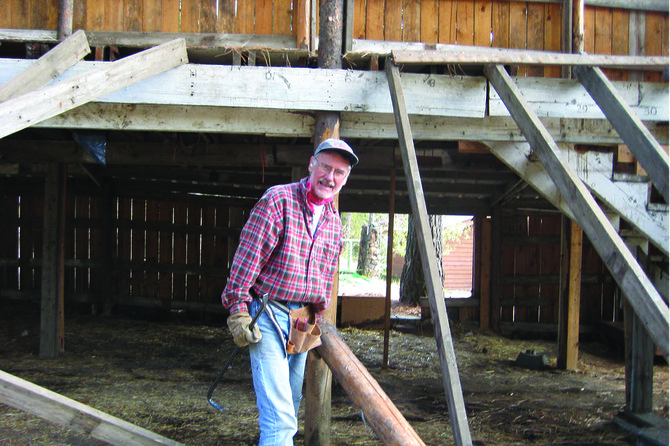 Contributed photo / Michelle Gildner
Gary Gildner is seen here during one of the stages of his tearing down the barn project.
Grangeville — What started as a removal and renovation project also turned into a short story that will eventually be a book.
Grangeville author Gary Gildner's short story "Tearing Down the Barn" was published in The Georgia Review Fall 2013 magazine.
The piece discusses not only Gildner's four-month project of tearing down the barn on his Clearwater Mountains-area property, but also the thoughts and memories he had while doing so.
"There were some people who thought since I'm in my 70s, this was a pretty crazy endeavor," laughed Gildner.
Tearing Down the Barn will be the title piece of an upcoming book by Gildner. He is also in the process of publishing a book of short stories, many of which have local themes about his life in the mountains here. Gildner, an award-winning author published many times over, has lived in the area for the past 20 years.
Gildner's first story in The Georgia Review was published many years ago, he said.
"'Sleepy Time Gal' is a story I wrote from the point of view of my father with my mother interjecting as he told the story," Gildner said. Since that time he has had several pieces in the literary magazine as well as items in a variety of others, including Antioch Review, New Letters, Southern Review and the New York Times Sunday Magazine. In the latter he published "Closer" which tells the story of his encounter with a cougar on his property.
"I enjoy writing about my life here in the outdoors, mixed with thoughts on and memories of growing up in Michigan," he said.
Gildner's father was a carpenter so he said he "knew a little about how things are built."
"So with the barn I was able to start from the opposite end and tear down a little at a time," he said. The barn story makes mention of local electrician Jim Spruell, and upcoming stories for his memoir book will also include mentions of Cody Edwards and others involved in the construction project following the tear-down that left the Gildners with a two-car garage with a carriage house on top.
In addition, he has a story on "How I Married Michelle" which speaks of his wife and one about fishing entitled "In the Presence of the Clearwater."
Gildner said one of the reasons he tore down his own barn was that it gave him a good reason to get outside.
"I can only sit at my desk and write so long at a time," he explained. "I love being in the outdoors."
Gildner spends time each day at his desk with a sharpened pencil and hand writes his stories. He makes changes and polishes them prior to typing them on a manual Smith-Corona. Then, Michelle transcribes the works to the computer.
"I certainly enjoy that creating and then re-writing process," he said.
Gildner is the author of The Warsaw Sparks (memoir), My Grandfather's Book (creative nonfiction), Cleaning a Rainbow (poems), Blue Like the Heavens (poems), Somewhere Geese Are Flying (short stories) and a variety of additional books, poems and short stories.