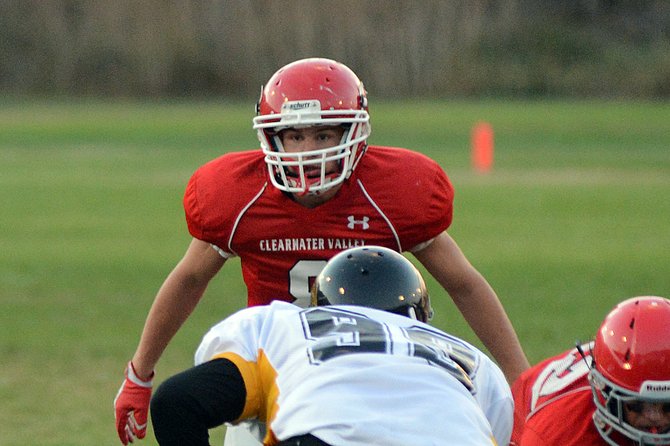 Photo by Andrew Ottoson
Dillon Fisher, a Clearwater Valley senior running back and linebacker this fall, became the first Ram named to the all-Whitepine League first team since CV joined the WPL in 2004.
KOOSKIA — For the first time since joining the league in 2004, a player on the Clearwater Valley squad was named all-Whitepine League. While senior running back Dillon Fisher leads the list as a first-team running back and honorable mention linebacker, two other CV seniors were noted as well. Rams receiver Jake Farmer received honorable mention, as did defensive end Will Weaver.
Kamiah seniors Zach Wilson (running back), Jared Jagow (center), and Jacob Oatman (guard) received honorable mention; Jagow and Oatman were named second-team defensive tackle and linebacker, respectively.
Prairie's Lucas Arnzen (running back, defensive tackle), Isaiah Shears (receiver), Matt Schwartz (guard), Tyler Hankerson (linebacker) and Casey Danly (defensive end) all received first-team honors. Hunter McWilliams (running back), Rhett Schlader (receiver), Mason Dagliesh (defensive back) and Schwartz (defensive tackle) received second-team recognition. Jake Bruner (quarterback, defensive back), Calvin Hinkelman (running back), Hankerson (receiver), Dakota Wilson (guard) and Isaiah Shears (linebacker) got honorable mention.