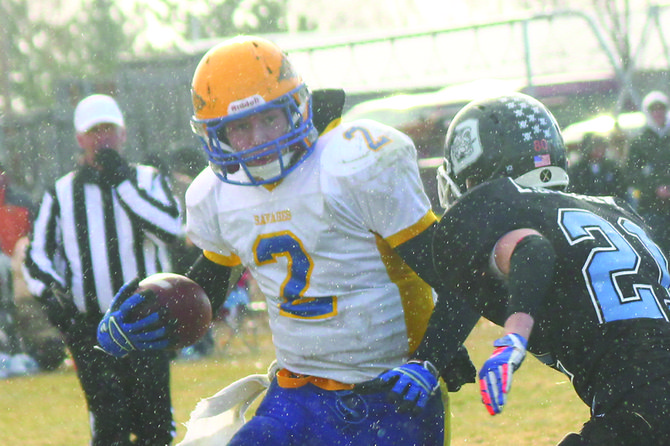 Salmon River Photos / Frank Mignerey
Salmon River standout Leighton Vander Esch rushed for 328 yards and added 151 passing yards during the Savages' semifinal victory over Council last Saturday, Nov. 16. Vander Esch scored five rushing touchdowns as Salmon River advanced to the 1AD2 title game, to be held on Friday night, Nov. 22, at BSU.
DIETRICH — Big plays eventually put Salmon River in charge of their semifinal game last Saturday, Nov. 16, but messy weather helped the host Blue Devils keep the Savages out of the end zone for much of the first quarter.
Dietrich, for its part, deployed an effective pass rush to stop Salmon River's first series, but on a day that began with a DHS return man coughing up a fumble on the opening kickoff, the Blue Devils were plagued by turnovers.
Salmon River's Jimmy Shepherd made an interception near midfield and the Savages advanced to the Dietrich 30 before stalling on a penalty and a drop.
Salmon River then forced a punt and put up the first points of the game on a bomb from Vander Esch to McCoy Hale with a minute remaining in the first quarter. Hale split two defenders to make the catch and escaped from traffic as the defenders wiped each other out.
Vander Esch found a rhythm running the ball after that, ripping five straight scores through the heart of the Dietrich rushing defense (the yardages were 32, 68, 33, 20, and one).
Coming — The Savages (11-0) will play Long Pin Conference runner-up Council in the title game, which is set for 5 p.m. (MT) on Nov. 22 at Boise State University.
On Oct. 11, Salmon River traveled to Council and won a mercy-rule victory over what was then a depleted squad.
Last week, the Lumberjacks held Lighthouse Christian to 12 points and scored on an interception return to reach the title game. Council's defense also delivered two stops in the red zone.