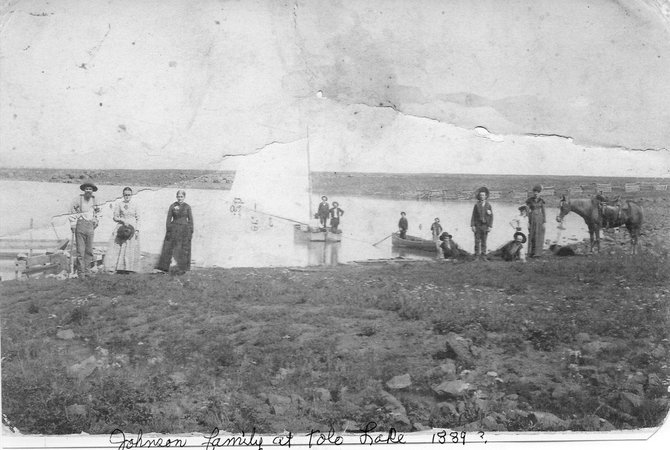 10 YEARS AGO
NOVEMBER 17, 2003
•GRANGEVILLE – Snow in the hills is a good beginning for the winter recreation season, and Snowhaven Ski Area plans to get its facility up and running for a tentative Dec. 6 opening.
•LOWELL – Cleanup may be measured in weeks rather than days for an estimated 6,300 gallons of diesel fuel seeping into the Lochsa River following last week's truck accident along U.S. Highway 12.
20 YEARS AGO
NOVEMBER 18, 1993
•Two Grangeville residents were honored by the National Weather Service for nearly a lifetime of dedicated weather reporting.
"(Bob and Alice) Rickman have taken weather readings for 38 years, every three hours, 24 hours a day, 365 days a year," said John A. Jannuzzi, the area manager for the National Weather Service forecast office. "All you have to do is look at their records. They are virtually error free. The Rickmans have compiled some of the most complete records that we have."
30 YEARS AGO
NOVEMBER 16, 1983
•Will the Camas Prairie Railroad branch which ends in Grangeville close? Rich Workman of Union Warehouse said this closing was being considered by railroad officials.
Camas Prairie Railroad is owned by Burlington Northern and Union Pacific.
40 YEARS AGO
NOVEMBER 21, 1973
•Riggins Hog Springs, known to Indians for centuries and to early day settlers since the founding of Idaho County, is under new ownership.
Mr. and Mrs. Charles Wunsch have bought the resort, have improved the cabins and restaurant and plan to operate the year round.
50 YEARS AGO
NOVEMBER 21, 1963
•Motorists coming to Grangeville from the east and from the south will see the new church signs that have been erected by the city's ministerial association. The name of each church in the community is listed for the benefit of those who are tourists.
60 YEARS AGO
NOVEMBER 19, 1953
•Idaho County and Grangeville civic organizations will endorse construction of two proposed storage dams on the Clearwater River drainage. The dam sites are at Bruce's Eddy and Penny Cliffs.
70 YEARS AGO
NOVEMBER 18, 1943
•Twenty-nine German internees who were brought into this vicinity in early August to work on the Meadow Creek road project left by bus for Spokane.
80 YEARS AGO
NOVEMBER 16, 1933
•BATTLE RIDGE – H.J. Howser brought a new radio up from Stites for Claude Ulery. The Ulerys are enjoying the latest news and other entertainment.
•GOLDEN – The new school at Golden now has the chimney built and the roof on. Mr. Harry Tanner kindly donated his crew for one day as did Mr. Miller of Lone Pine.
90 YEARS AGO
NOVEMBER 22, 1923
•A Scotsman, almost led into a trap often worked by clever mine swindlers, stopped in Grangeville en route to Buffalo Hump in quest of a mining man who attempted to swindle him.
100 YEARS AGO
NOVEMBER 20, 1913
•WHITE BIRD – The new church bell has arrived. It is tuned B-flat and comes in handy as a school bell.
•ELK CITY – The old log building that stood between Ingram's saloon and Scott's store has been torn down. It was about the last of the old Elk City and its absence is a decided improvement on Main Street.
110 YEARS AGO
NOVEMBER 19, 1903
•The city council has ordered the attorney to draw up an ordinance prohibiting snowballing and coasting on the streets of Grangeville.
120 YEARS AGO
NOVEMBER 17, 1893
•YOUNG PEOPLE – For the next 10 days you can get your photographs at the Elkite as follows: Minettes, $1.00; petites and quadras, $2.00; trokonets and mantellos, $2.50 per dozen.