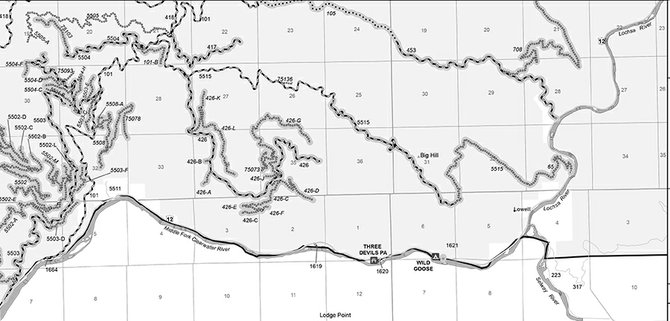 Extract of Clearwater National Forest "Motor Vehicle Use Map"
Page 52 of the recently released map shows routes for legal motorized use in the vicinity west of Lowell. If a route doesn't appear on the map, driving summer-use vehicles there is officially prohibited.
ORONDO — OROFINO — The Clearwater National Forest Motor Vehicle Use Map (MVUM) is now available free-of-charge at all Nez Perce-Clearwater National Forest offices. Details and maps are available for download online:
http://www.fs.usda.gov/main/nezperceclearwater/maps-pubs.
The MVUM is a legal document that displays routes designated for motorized use on every single square mile of Clearwater National Forest territory. If a route is not displayed on the MVUM, it is not open for motorized vehicle travel.
Motor vehicle use maps will be re-published annually; if there are changes made mid-year, they will appear on the updated MVUM. It's up to forest users to keep up with the changes, as the MVUM becomes enforceable when published.
Users cannot depend upon signs to determine the status of routes. This was announced in a Nov. 20 press release.
Motorized uses — including snow machines and bicycles — are prohibited in recommended wilderness areas. Restrictions apply to backcountry motorcycle users in areas protected for fish and wildlife.
Contact your local Nez Perce-Clearwater National Forests' office for information.