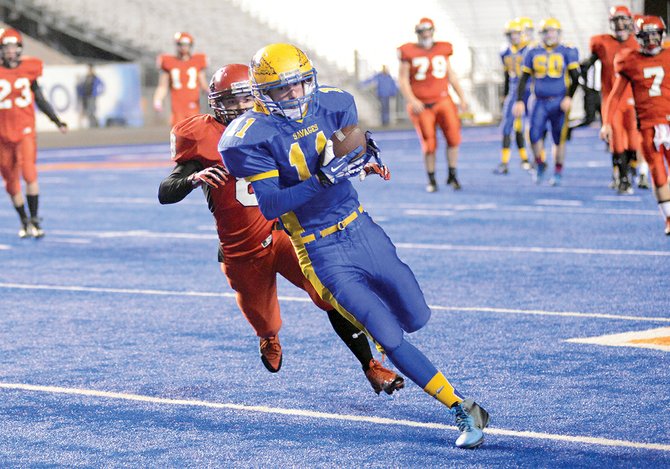 Photo by Andrew Ottoson
Salmon River's Terrun Zolman caused chaos in Council's backfield, scoring three times. Pictured above is one of Zolman's nine catches last Friday night, Nov. 22, on which the senior receiver collected a deep throw, turned up-field and out-ran all pursuers to the end zone. Zolman finished with 204 receiving yards as the undefeated Savages turned an 8-6 ball game into a 52-6 advantage and, eventually, a 66-26 victory.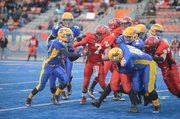 On a night he threw six touchdown passes, Salmon River quarterback Leighton Vander Esch lit up the Bronco Stadium scoreboard by putting the ball in teammates' hands. The Savages built a 54-point lead, but long before Council fell hopelessly behind, Vander Esch destroyed the Council defense with individual improvisations that left no doubt about his athletic superiority over his football-playing peers throughout the 1AD2 classification.
Salmon River led 16-6 after the first quarter and went on to win 66-26 last Friday night, Nov. 22, but after receiving the ball on a punt to start the second quarter, Vander Esch and the Savages turned what appeared to be designed as pass plays into three consecutive 20-yard runs — none of which went for a first down.
This was as close as the Lumberjacks came to stopping the Savages: Each time, Council covered Salmon River's receivers well and, each time, Vander Esch defeated that coverage with a scramble down the SRHS sideline. On second-and-10, a holding penalty replaced his scramble with second-and-21. On third-and-21, an illegal shift replaced his run with third-and-35. The penalties did not matter; Vander Esch evaded pursuit once again, as he would throughout the contest.
Facing fourth down near midfield, Salmon River called time-out to set up a run-pass option for Vander Esch; he ran to his right, toward the Council sideline, where he picked up a key block from Jimmy Shepherd and gained barely enough for the first down in Council territory.
"We went backwards and they had big hopes of getting a turnover on downs or a punt," coach Charlie Shepherd said. "After they didn't stop us on third-and-35, we pretty much moved the ball at will after that."
A seven-yard Vander Esch run a few plays later put the Savages ahead 24-6. Council never again came close to stopping the A-teamers.
Shepherd anticipated the Lumberjack offense would "line up and play smashmouth football," but Council went instead with spread formations designed for passing. The Lumberjacks nearly hit a long touchdown pass on the second play of the game, but McCoy Hale chased down a 61-yard gain and made a touchdown-saving tackle.
The Savages forced a turnover on downs, then launched a six-play series on which they ran just once before Vander Esch hit Shepherd for the opening score. Council struck back with another deep throw, which set up a short touchdown run by Corbin Hedges with 3:05 left in the first quarter.
"They made championship game-type plays catching the ball over a defender — that's going to happen and you just have to applaud it," Shepherd said. Shepherd noted Salmon River made its share: "Mac, running that kid down, that's a huge momentum swing. Then, the scramble and the pass to Jimmy, I knew if we got the lead we'd play with confidence. Then Terrun [Zolman], with back-to-back interceptions, that was the dagger. Council likes to run a lot of wide receiver crosses, where if we were playing man-to-man, a defender would get rubbed. So [Council quarterback] Mick Wilson was seeing the receiver break wide open, but in reality Terrun was dropping back in his zone both times. That was early in the game, with a lot of time left, but after that, they couldn't do anything."
Both possessions created by Zolman's interceptions turned into touchdowns: one on a pass he caught, the other on a pass caught by Hale.
After a Council turnover, Salmon River's offense was stopped — by the end of the second quarter. The Savages scored on the third play of the third quarter, when Zolman broke a 61-yard catch-and-run for a touchdown.
Council then marched 50 yards from its own 20 to the Salmon River 30 before turning it over on downs. Zolman scored on a 51-yarder late in the quarter and Vander Esch (who had a hand in on eight touchdowns) ran in another for a 60-6 lead.
"I thought it could be a high-scoring game for both teams. I never expected our defense to hold them to six points," Shepherd said. "The kids played physical and disciplined. Thomas Mead and Nolan Richerson, when Council tried its famous screen passes, felt the linemen release and they shut those plays down without help from the linebackers or safeties. For Thomas and Nolan to play that intelligently, we took one of Council's biggest strengths away with our defensive line."
"Once we seized momentum, we never let up," Shepherd said. "Council being a young team, our getting the early lead took a toll on their enthusiasm and confidence."
"Leighton was the catalyst with his ability to extend play after play. Terrun Zolman turned short passes into big gains. I bet half or two-thirds of his 200-plus yards were after making a catch and breaking a tackle. Jimmy, his consistent play forced Council to put their best cover man on him, and that opened things up for Terrun. They had no way to deal with both of them. And then McCoy, he did an excellent job blocking and when called upon he made big play after big play, two of them going for touchdowns."
With a deep, talented roster, Salmon River was marked as a favorite to win this 1AD2 title — not only in media polls, but in the Riggins community.
"Right from when we hung the banner last year, everyone in this community and many around the state thought these kids would get here. They took the high expectations on themselves, and we couldn't be prouder with the way they went out and achieved it. It's fun as a coach to see them grow into being respectful young men, and so successful."
Salmon River (12-0) will graduate eight seniors next spring; the class of 2014 exits with a streak of 17 consecutive wins, two straight football titles and the program's fifth championship since 2007.