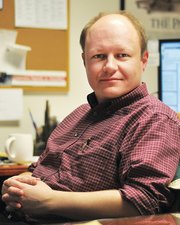 It's time to be one of those "glass half full" people as we head into Thanksgiving, because we've got a lot to be thankful for here in Idaho County. How so?
Because it's a safe place to be. Crime is down in the county; at the five-year low, in fact. Thefts, vandalism and misdemeanor assault are our major crimes. The streets are safe and so are the kids.
Because there's help at every turn. Out-of-state motorists who break down in the county are continually singing the praises of locals who show up and help out, give them a ride, shelter and feed them, and fix them up. Every community has volunteers who fight fire and man ambulances, tackling late-night calls and lonely stretches of dark, icy roads to serve both neighbors and unknown faces. Service organizations and churches put in time for local needs (food, clothing, shelter) and set up community events to celebrate. And there's always a benefit spaghetti feed on the calendar to help out someone with the bills.
Because there's medical services. Two hospitals, plus their clinics, cover our county. They help in crises, get our tests done, conduct checkups to colonoscopies, and also serve with wellness promotion and support groups. Don't forget dentists, physical therapists, plus the holistic and other alternative heath options; yep, there is a lot here.
And we're making babies. It's great to have those new families starting here, and for grandchildren and great-grandchildren to enter our lives. As of last week, Syringa Hospital had 31 births for the year, and St. Mary's Hospital had 44. And by the way, we've got some pretty darn nice kids around here who are polite, help out and are really pleasant to be around.
Economy? Unemployment remains below double digits for Idaho County: 9.6 percent for last month; 6,555 folks are employed here. Main Street occupancy is fairly strong, agriculture remains king, and there's construction and also new businesses popping up.
Stuff to do. Outdoor recreation is tops, but besides that there are groups reading books, making swags and bragging on gardens, meeting for breakfast, lunch and dinner, groups that put on festivals or shoot guns or arrows, or get on the radio or talk about history or politics or religion or agriculture. Want to sew or do drama or learn soap making or about wine or how to take a better photo? It's here, and more. So, if you're bored, you're not looking or not trying.
Did we say it's safe? No gang violence, no urban warfare, no police station bombings. The extent of our religious warfare is to beat the Baptists (Lutherans? Methodists? Mormons? Catholics? Nazarenes? Etc.) to the good restaurant tables on Sunday.
Many generalizations are made about thankfulness on Thanksgiving, but if we would count all the items that make our county a special place to be then we would actually realize how much we have to be thankful for here.