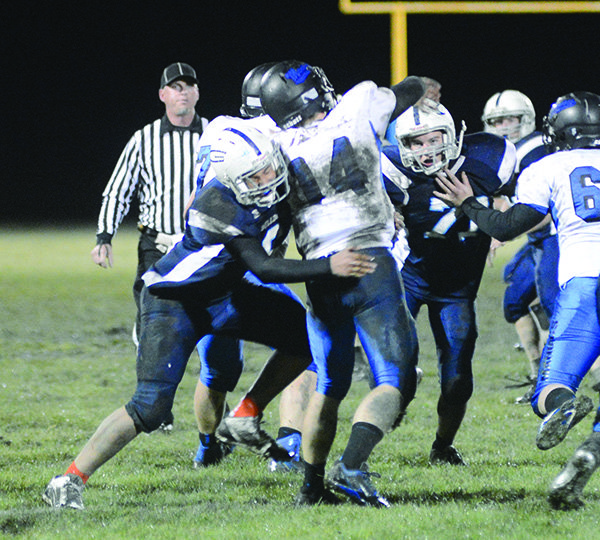 Photo by Andrew Ottoson
Grangeville linemen Eli Eackles (left) and Phillip Walters (right) were among the many Bulldog defenders who muddied Orofino quarterback Drake Kuykendall's jersey last Friday night, Oct. 4, though he usually delivered his passes before defenders arrived.
Grangeville — Previously undefeated Orofino walked onto the field with bright white jerseys and a sparkling 5-0 record last Friday night, Oct. 4, but neither lasted long on the Bulldogs' muddy field. Grangeville pulled out a 21-6 victory more lopsided than the final score.
"This was a huge win for us," coach Jeff Lindsley said. "We committed too many penalties, and we have to eliminate those — they will swing games against us in the playoffs if we don't."
Grangeville's first series produced three quick first downs — all by way of slogging runs — and looked to have struck for a touchdown when end Alex Koberstein hauled in a pass from quarterback Michael Wilson in the front left corner of the west end zone. That score was wiped out by a holding penalty, and Grangeville fumbled the ball away.
The Bulldogs bounced back by forcing a punt that devolved into a sack when Orofino's punter couldn't get the kick away and was swarmed to the turf at his own 27.
After picking up a third-and-long on a run by Wilson, Koberstein caught a 17-yarder that made it first-and-goal from one yard out. Wilson powered into the end zone with 2:15, Josh Dame kicked the extra point, and Grangeville's defense had all the points it needed.
GHS struck again midway through the third quarter, when Wilson found Dame for a 74-yard touchdown. The Bulldogs added an unusual two-point conversion when Koberstein, holding for a kick attempt, scrambled away from Orofino's rush and threw to Jasper Sabatino for a 15-0 lead.
Moments later, Grangeville linebacker Aaron Hohman tipped a pass attempt which defensive back Austin Parks picked off and returned about 30 yards to the Orofino 20. Bulldogs running back Jake Kaschmitter needed only one attempt to punch in the insurance touchdown, which left GHS with a 21-0 lead following a failed PAT try.
Orofino's next series ended with a touchdown pass from Drake Kuykendall to Scotty Lee with about 11 minutes to go, but despite their playmaking ability in the passing game, the Maniacs could not come up with another score against the GHS defense.
"They pass block very well," Lindsley said. "We took away the run and made them one dimensional. Defending the pass, we're a little disappointed we didn't put more pressure on him. We finished with more hurries than sacks. We're going to need a better pass rush this week."
Coming — Grangeville (4-2, 1-0 Central Idaho League) has played its last regular season home game, but with a win at St. Maries on Friday night, Oct. 11, the Bulldogs may earn the right to host one during the first round of the state playoffs.
"On film, they're a very good team — better than Orofino," Lindsley said. "Their quarterback extends plays and can withstand tackles."