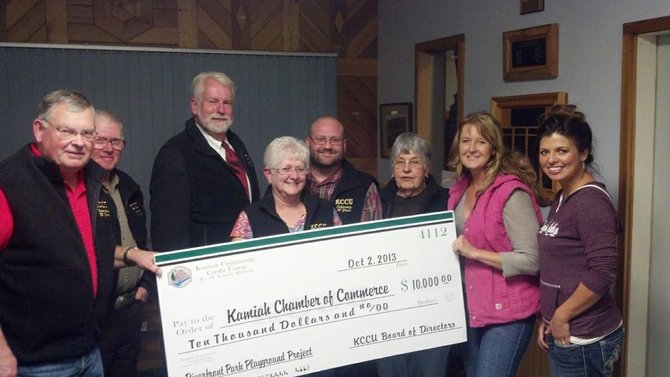 Kamiah — The Kamiah Chamber of Commerce is working with several organizations and businesses in Kamiah to bring commercial playground equipment to Riverfront Park. The current equipment was purchased in 2007 with fund-raising through the chamber and Kamiah Elementary/Middle School PTO. At that time, wooden equipment was purchased at Costco. It currently is in disrepair and needs to be replaced.
Kamiah Community Credit Union recently donated $10,000 toward the efforts. The chamber donated $5,000 and through other fund-raising efforts and donations from local merchants, another $5,100 has been raised. The chamber has received a grant in the amount of $2,500 for this project as well. The PTO is also having a penny drive to benefit the park which will run through Oct. 16. The City of Kamiah has agreed to do all the construction prep work for the equipment.
There is currently a $9,500 shortfall on the project. The goal is to have playground equipment in Riverfront Park by spring.
Anyone wishing to donate can do so by calling chamber vice president DawnMarie Johnson at 507-1238 or make a donation directly to the Chamber of Commerce Riverfront Park account at the KCCU.