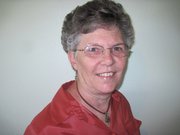 Cottonwood — The 14th annual Fall Lecture Series started last week. Everyone enjoyed Dick Craig sharing his research on the Bethman Ranch near Pardee.
This week Richard Holm, Jr. tells of his adventures researching his book about remote Idaho airstrips entitled, "Bound for the Back Country." The lecture begins at 7 p.m. and ends at 8:30 p.m. followed by a question and answer session. All the events are held in the Johanna Room at the Spirit Center at the Monastery of St. Gertrude located at 465 Keuterville Rd., Cottonwood. Suggested donations for the lectures are $5 for singles and $7.50 for doubles. For information contact the museum at 962-2050.
Recent visitors to Prairie Community Library were Mr. Chris Hempstead and his third and fourth grade classes from Summit Academy. We enjoyed having the class just as much as they enjoyed looking around the library and learning the Dewey System. The kids checked out books to make book reports. They got to meet our new little mascot, the reading doggie, who is yet to be named.
We invite all classes in both Prairie Elementary and Summit Academy to come in and see what we have to offer at the library. The gift of reading will last a lifetime.
Library board members are busy with planning the Bräts & Brew Fest coming up on Oct. 26. We have some entries for the competition, but we there is still room for more. Each entry is given one free dinner ticket. There is a $50 prize for the best in each category voted by the
public. Homemade sauerkraut and scalloped potatoes will be furnished by the library board. Silent and live auctions will follow along with dancing and entertainment by the Coffey Twins. Tickets in advance are only $20 and can be purchased from the library or board members. Only 200 tickets will be sold.
The cost at the door will be $25, so get yours soon. I wonder what the special entertainment will be this year.
I think most of the farmers are finished with the fall planting. All that is left to do is the plowing. It has been freezing in some locations so the leaves are starting to turn. What a beautiful time of the year. Besides, all that outdoor work is just about done, so you can relax and take it easy until spring.