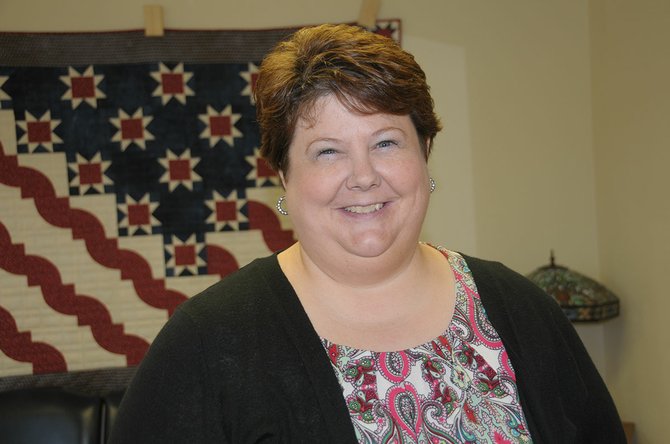 Photo by Lorie Palmer
Beth Monsebroten, FNP, is the new provider at the Syringa Hospital & Clinics Walla Walla VA Contract Clinic in Grangeville. Behind her hangs a Quilt of Valor which was made by local quilting ladies. It will be given to a combat veteran this year. Monsebroten hopes to display different Quilts of Valor in the VA clinic year-round.
Grangeville — It isn't hard to decipher after just a few minutes with family nurse practitioner Beth Monsebroten that she hails from North Dakota. The slight accent and welcoming smile now greets veterans at the Syringa Hospital & Clinics Walla Walla VA Contract Clinic.
Monsebroten grew up on a farm in eastern North Dakota where her dad and youngest brother still remain. She obtained her AAS, LPN at Northwest Technical College in Minnesota in 1997 and her AAS, RN, at Northland Technical and Community College in 2009. In 2009 she earned her MSN, FNP, at the University of North Dakota.
"My sister and her husband and their four kids and I decided to look for a place to move that had cool winters but also distinct seasons," she said, citing they raise angora and mini lop-earned rabbits and wanted the ideal climate in which to do this.
She found the job opening on a national website and began to check on the Grangeville area.
"I saw that you guys really know how to put on a parade," she laughed.
A Skype interview led her and her family to a trip where she says she fell in love with the area.
"We decided we would move here whether or not I got the job," she grinned. "I just figured I could get a job somewhere in the vicinity."
Monsebroten has worked in a small rural clinic where she treated patients of all ages.
"At first I honestly was not sure how I would like working just at the VA clinic," she said. "However, now that I'm here – I love it. I love my patients. I cannot imagine working anywhere else. This is where I belong."
She fills in occasionally for the walk-in clinic, so she said she gets her "baby fix," now and again.
"It's really the perfect blend," she said.
In her spare time, Monsebroten said she enjoys knitting and crocheting and is currently taking a beginning quilting class at Homegrown Quilts. Aside from raising the rabbits, she and her sister also harvest and spin the wool and ship rabbits all over the world. They also raise and sell Maine Coon Cats.
"We want to have the whole farm experience with chickens and goats – and we have several dogs," she said.
"Everyone in Grangeville has been so friendly and welcoming," she added. "I love it here."