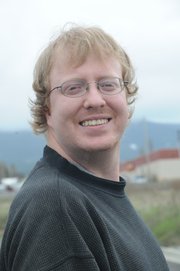 Our Week Five winners, David Stowell and Gideon Roberts, were among four who tied at ten correct picks apiece. That's a bummer for Mike Connolley and Terry Schlieper, but no worries, fellas — we'll be handing out gift certificates through Nov. 13. I'm glad to have another month to keep firing picks, even though I'm coming off my worst week to date with five whiffs.
---
I was wrong about Teton, Navy, Old Dominion, Green Bay and Oakland — although I have to admit I'd never pick Oakland even if it were obvious the Raiders would win. I'd pick against them in spite of the fact spite isn't a good predictor of success. Go Broncos!
---
Last week's results: Prairie beat Clearwater Valley, Teton beat Snake River, Grangeville beat Orofino, Coeur d'Alene beat Lewiston and Salmon River beat Horseshoe Bend in the high school games.
In the college games, Stanford handled Washington, BYU topped Utah State, Navy brought down Air Force and Old Dominion outlasted Liberty.
In the NFL games, New Orleans, Green Bay and Oakland made it look easy. (And what happened to the mighty Seahawks? Good thing that one wasn't on the list.)
In this week's high school games, give me Salmon River, Firth, West Side, Genesee and Bonneville. I'll take LSU, Boise State, Slippery Rock and Washington in the college games. Put me down for Buffalo, Kansas City and San Francisco in the pro games. (The entry form is on 2B.)
---
This week in outdoors news, I was thrilled to talk to Wade Sickels about his first moose. (Check out the photo on 1B, where he's pictured with his kids, Kaycen, Payje and Trayven.)
Sickels was shut out of the area he planned to hunt by the Sheep Creek fire last year. His tag was reissued and spent about 20 days in the woods, turning down lesser beasts until that monster turned up at about 100 yards last Wednesday, Oct. 2.
He made the shot with a 7 mm short mag rifle — and he'll be heading back out for deer and elk hunts later this week.
Sickels' mom tagged a good moose this year, too.
---
I'd like to share a snippet of the Salmon River steelhead report we receive from Amy Sinclair at Exodus Wilderness Adventures: "On Oct. 1 the Salmon River set a record high for the day of the year at 15,200 CFS; the old record was 7,840 CFS set in 1983. ... As of this morning we have a river flow of 7,450 CFS and a river temperature of 47-49 degrees, a perfect temperature to get steelhead into the Riggins area. With the river continuing to improve each day, good fishing and more importantly great fish stories, are just right around the corner."
---
We'll be looking for contributions to our Brag Board all season long. We received a couple of really nice ones from youth turkey hunts. (Check them out on 1B.)
We're also looking to write up all the great hunting and fishing stories readers care to share.
Bring Brag Board photos by the office, send 'em to aottoson@idahocountyfreepress.com, or contact us at 983-1200.
And if anybody is shut out of a preferred hunting area by red tape involved with the government shutdown, we'd most certainly like to hear about that, too.