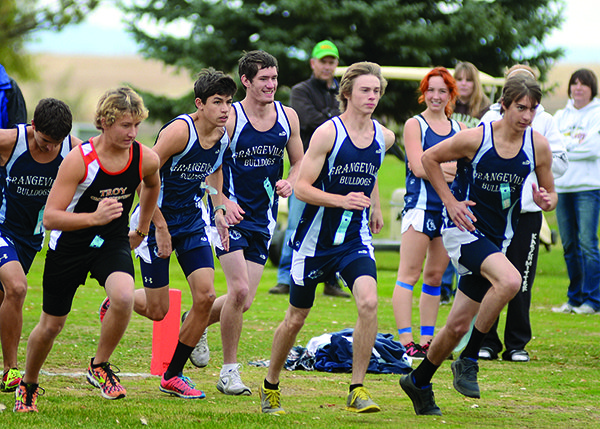 Photo by Andrew Ottoson
The Bulldogs hosted a cross-country meet for the first time in 10 years last Saturday, Oct. 12, at Grangeville Country Club. GHS will host the district race next Thursday, Oct. 24, with individual runners and teams from across the area competing here in hopes of qualifying for state. The Grangeville boys pictured, in blue uniforms (from left), are Xavier Barela, Diego Barela, Devin McLean, Quaid Blankenship and Danny Paluh.
Grangeville — Jim Suhr was the Grangeville High School cross-country coach the last time GHS hosted a meet, which was 10 years ago. And leading up to the invitational last Saturday, Oct. 12 at Grangeville Country Club, Suhr measured out a similar pattern to the ones he drew up all those years ago, Bulldogs coach Les Loeber said.
Measuring 3.1 miles including two laps around the perimeter and one detour past the pond, the course took the fastest finisher — Peter Spencer, wearing the Highland High School black and gold — barely more than 18 minutes to complete.
The next three across the finish line were all Bulldogs: Diego Barela (19:02), Quaid Blankenship (19:21) and Xavier Barela (19:55).
Grangeville's Danny Paluh (11th, 21:19) and Devin McLean (21st, 26.15) rounded out the scoring for the GHS boys, who finished first among four eligible teams.
Highland's Makayla Kaufman (22:12) placed first in the girls race, but the Grangeville girls posted the best squad score of the day behind Kaleala Bass (second, 23:06).
Emily Kaschmitter (24:35), Emily Sherwood (26:07) and Jenni Forsmann (26:23) finished in sequence for GHS, followed by Alex Summers (31:20).
Coming — Grangeville has three meets remaining.
The Bulldogs will travel to Potlatch Thursday, Oct. 17, with the girls to run at 3:30 p.m. and the boys to follow.
The following Thursday, Oct. 24, Grangeville will host the district meet, which is set to start with the varsity girls' race at 2 p.m. The varsity boys will go at 2:45 and all the JV runners will go at 3:30 p.m.
Then, if either or both GHS teams qualify, the Bulldogs will run at state Nov. 2 in Idaho Falls.