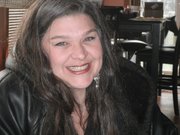 White Bird — The hills are alive with the sounds of pickups, SUV's, gunshots and people. Last weekend there was so much traffic in the mountains, it was crazy! I saw many rigs loaded down with elk and deer. Congratulations to all of you who will have food in the freezer this winter. My son, Canyon, went hunting this year for the first time. He shot himself a nice mule buck, gutted it himself and Grandpa helped him pack it out and skin it. I don't know who was more proud, me or him.
The community of Slate Creek joined efforts, and now have dumpsters for their area. I hope that this will help clear up the mess along the highways. It's amazing how much garbage has flown out of the backs of people's rigs, just trying to get it to a dumpster. I feel bad for the Blewetts who live at the bottom of the north side of White Bird hill. The dumpsters by their house are always overflowing. I understand why though, because it's such a pain in the neck to dump your trash at the ones here in White Bird. First of all, the parking lot side that you have to dump on is too small, backwards and on a blind corner. Then you have to pack every single little thing around those stupid fences, rather than backing right up to the dumpster and throwing it in. What genius designed that? It just makes sense to throw your trash in the back of the pickup and haul it to Blewett's dumpster on your way to Grangeville, rather than deal with all that nonsense, especially if you are disabled or an old-timer. So anyways, the new dumpsters at Slate Creek are a good thing. Way to go Slate Creekinites.
The cribbage tournament will also begin on Oct. 26 at the Silver Dollar. It takes place in the back room and everyone is welcome to come and spend the afternoon playing cards. Kickoff is always at 2 p.m., so make sure you show up a little earlier to get signed up.
There is going to be a Halloween party for the adults at the Silver Dollar on Friday, Nov. 1. Come dressed in your best costume and expect to experience some crazy spirits.
Mac's Bar is planning on making it a three-day party, before, during and after Halloween. I will have more details as to what's really going to happen, in next week's column.
Just to put a bug out there a little early, our community is in need of Christmas lights to help decorate the hall during our Christmas program. Last year was the last year for the ones we had. They were unable to be repaired and it's time for some new ones. If you have any that you could donate call Jenny at 839-2721.
Happy birthday this week to: Susie Ray, Shae Hollinsworth, Kelby Kilgore, Ahni Anderson, Nikki Sickels, Madilyn Lindsey, Frank Sargent, Tara Connolley, Dennis Swallow, Kelli Martin, Doug somebody, John Urbahn and the fabulous Little Joe!