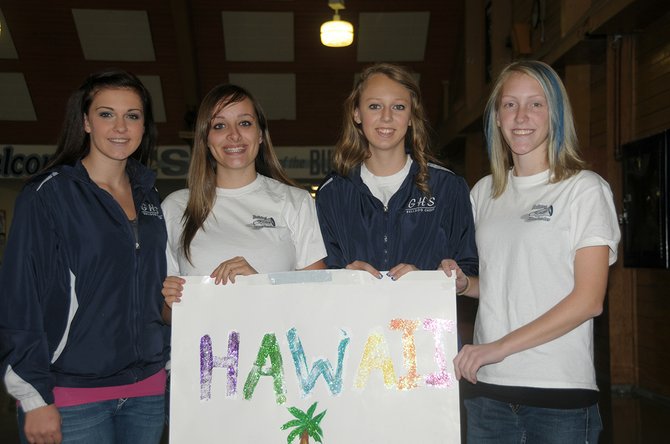 Photo by Lorie Palmer
Grangeville cheerleaders who will be cheering at the Pro Bowl in Hawaii in January are (L-R) Shandra Madden, Harley Morgan, Kaitlynn Forsyth and Katie Hauger..
Grangeville — Hawaii in January? Four Grangeville cheerleaders and their mothers will get that experience Jan. 23-27.
Grangeville High School seniors Harley Morgan and Katie Hauger, along with sophomores Shandra Madden and Kaitlynn Forsyth and their chaperoning mothers, will cheer at halftime of the Pro Bowl in Hawaii Sunday, Jan. 26.
Eight GHS cheerleaders attended a cheer camp at Boise State University this summer. At that event they learned cheers and competed against other squads in the state. Winning competitons there gave way to the Pro-Bowl invite.
"We didn't know about it until the last day when awards were announced," said Morgan, who has cheered for three years. The squad walked away with a superior rating as well as an award for hardest working.
All expenses for the trip – about $2,000 each – must be paid by the girls; no funds from the school district are being used as the trip is not a school activity. So far the four have sold pizzas, had bake sales, and completed other fund-raisers to help pay for their trips. The reason the other cheerleaders won't be attending is the cost, plus some may have the opportunity when they are older.
Cheerleaders from across the United States were chosen to attend the Hawaii event and about 100 will meet in Hawaii where they will learn a routine and then perform with the NFL cheerleaders at halftime of the Pro-Bowl game.
"I'm excited," said Hauger, who has cheered for two years. "Hawaii in January? Yes."
The girls will host a breakfast at the Eagles Hall on C Street Sunday, Oct. 20, 7 a.m. to noon. A 50/50 raffle (tickets available through that day) will also be drawn following the breakfast. The girls will also have a baked food table set up at the breakfast.
Those wishing to make a donation can do so through an account set up at Potlatch No. 1 Federal Credit Union. Donors need to specify whether they are supporting the group or one girl in particular.
"We really appreciate all the support from the community for this once-in-a-lifetime opportunity," Morgan added.