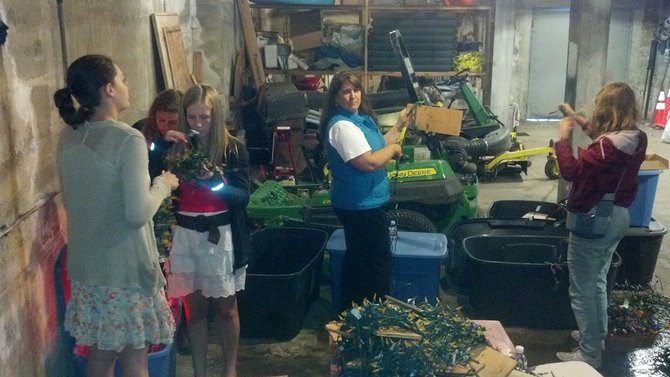 Pumpkin carving contest is Oct. 20 in Kamiah
KAMIAH – The eighth annual Pumpkin Carving Party will be held at Kamiah's Riverfront Park Sunday, Oct. 20, 1 to 4 p.m.
All are invited to this free event; however, children must be accompanied by an adult. This is sponsored by the Kamiah Chamber of Commerce.
For details call Pam Hipes at 935-7545.
Syringa Hospital & Clinics to hold flu shot clinics
GRANGEVILLE — Syringa Hospital & Clinics will offer the 2013/14 Walk-in Flu Shot Clinic Oct. 16 and Nov. 7 from 7:30 a.m. to 5 p.m. at the Primary Care Clinic in Grangeville. Oct. 10 immunizations will be given at the White Bird City Hall from 9 a.m. to 1 p.m. Cost is $35 and may be covered by insurance.

Reconciling Grief classes to be held Oct. 16 through Nov. 20
GRANGEVILLE — Reconciling Grief classes will be held on Wednesdays, Oct. 16 through Nov. 20, in the conference room at Syringa Hospital. These classes are for those seeking information and support while grieving the loss of a loved one. There is no cost for the classes but preregistration is required and attendance at all classes is encouraged. These classes are facilitated by Cindy Higgins LSW, Syringa Hospice Medical Social Worker and Janet Anderson, bereavement counselor. For information or to preregister call Cindy at 983-8550.
Cattlemen meeting set for Oct. 19 at White Bird
WHITE BIRD — The Idaho / Lewis County Cattlemen will have their annual meeting and dinner Saturday, Oct. 19, at Hoot's Café in White Bird. All members and their guests are encouraged to attend. The annual meeting will begin at 5 p.m. followed by social hour and dinner at 6 p.m. Dinner will be prime rib, barbecue ribs, lasagna, green beans, corn, and a salad bar. There will be door prizes, a live auction and silent auction. The dance will begin around 8 p.m. with the band Beargrass. For questions call Cindy Dahler, president, at 926-4955.
Brats and Brew Fest set for Oct. 26
COTTONWOOD – The fifth annual Bräts and Brew Fest is set for Saturday, Oct. 26, at the Cottonwood Community Hall.
Homebrew tasting is set for 5 p.m., sausage, side dishes, salad, bread and dessert tasting is set for 6 p.m. and live music with the Coffey Twins and the Satins will start at 9 p.m. A silent and live auction will take place with door prizes and entertainment. Cost is $20 per person (21 and older) or $25 at the door.
The event is sponsored by the Prairie Community Library. Call 962-3714 for details.
Animal House 4-H Club to meet Oct. 17
GRANGEVILLE — The Animal House 4-H Club will be holding its first meeting Thursday, Oct. 17, 5:30 p.m., at 1412 Scott Street. New members are encouraged to attend. Bring positive attitudes and creative ideas.
For questions call 507-0487, ask for Amy.